I kind of jump to conclusions sometimes. Like if they have an anime girl as their profile pic and they don't have their gender on their profile then I assume that they're a guy. Other than that, that's really the only judging I do.
nah I try not to do that cause I hate when people judge me before they get to know me.
Adorkable-
Yes. I look to see if they're attractive or not.
I dont judge internet people on their appearances
Yes and no. I judge them on their sign and sometimes what they say in their profiles, which I believe says a lot about your personality - but if their picture is one of them that's really glamorized, it's not usually a good start.
yup. but most of the time i judge them by how they talk
No because you never know
If you want to judge me based on an anime character made of a thousand billion pixels, be my guest, lol.

Although, she does look a bit like me in real life; hair color and length, skin color, boob size, shape, and I do have a pair of white panties (not bikini bottom) with a motorcycle on it.

I do have a summer beach hat, own a school girl outfit, and love floral.

Teehee!
you cant judge too much , but get an idea about their likes
So far my picture seems to get me a lot of profile views, but no one wants to be my friend.
Maybe I am just ugly up close Lol... Wait that's kinda sucks
Oh Noooooo!!!!!!
I can't help but do so. But I make sure to keep my negative thoughts(if ever) in my mind because I don't know them personally yet.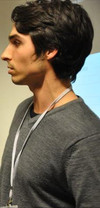 As a flawed human being driven by my own stereotypes and perceptions, yeah I do make some judgements based on people's profile pictures.

But I realize there's only so much I can deduce from a picture and some random remarks people put down.

I learn something new about my best friends, my grandma, my siblings, and my parents every day, and I've known these people most of my life.

So big picture, a few pictures ain't much.