Who else is as obsessed as I am <3 XDD I freaking love this show and the comics. I am currently eagerly awaiting Wednesday to get here for issue 95 to come out!


Opinions on the show?


The comic?


Characters?




I for one do love the show but the comics are a whole other thing. The characters are actually quite different in the comics. Lori isn't annoying and conniving, Andrea is actually a bad@$$, as a matter of fact, all the women (and men) are bad@$$' lol.. I do like the feel to the show though. The show still conveys the same feeling as the comics imo. I also like they brought in new characters too, like Daryl.
I just started it last night and finished the first season just now.

Like pretty much any other zombie crap, you have 10 dumb characters, 2-4 with some common sense but with some other negative factors (like the guy who wants to kill everything), and maybe 1 or 2 smart ones (in this case the cop who is a cowboy wannabe, and the Chinese (man Chinese are always smart in this shit aren't they?))

The plus side is that it's good for keeping you awake. I think I fell asleep around 7-8 times while watching it, and every time a gun shot, someone shouting, or simply a zombie feasting away, woke me up. Which isn't bad because I didn't want to fall asleep anyway.


Forgot to mention it but, the redneck accent is fuuuuuuuuckinng annoying.
I want Lori to die. Soon.
The show still conveys the same feeling as the comics imo. I also like they brought in new characters too, like Daryl.
allierose
it boggles my mind!!!!!!!! this show drives me crazy
Spoiler Alert! Click to show or hide
When I saw this show I think This is a bore show But I starting watching this show on Daily Basis and I like to watch this show..This is really an amazing show and I ever like to watch this show...The first season of this show was awesome and entertaining and I am still watching this show and This season is also too good........


I also like this show but my best show is The Sopranos. this show is much good then other and also this show contain a great fun. i like to watch this show when i ever have free time..

cbisram
1st season was excellent
1st half of second season was boring/emotional garbage
last couple episodes picked up the pace which was a good thing because i was just about to quit watching it
I like the show, so i started reading the comic book. But it's pretty hard finding the comic book version online.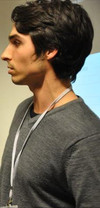 This is one of my favorite "new" shows I've become hooked on.

The dynamic between Rick and Shane is really interesting, and Daryl has got to be one of my favorite characters in the show.
this 3rd season is going to be good cause they don't have any fooder to throw at the zombies zombies break in the door you think before u go out guns/car blazing u think u would remember to lock the door

It is one of my favorite tv show. I have seen this show regular basis. each and every session are mind blowing .I love the role of all character

_________________

http://www.watch-babylon-5-online.com/
Pretty interesting show. i'm getting hooked into it. After all these reality/talent shows that are airing on the channels now, I'm glad to be glued on to something that isnt repetitive.