padricio
LosingOrbit
wrote
:
callyBee
wrote
:
LosingOrbit
wrote
:
Fell down a flight of stairs. Worst thing about it was no one offered help, they just either walked around me or stepped over me. Assholes
: ))))! LOL. but that was sad. :| got hurt?
I love how you laughed and then asked was I hurt.
Um, but no, I was fine. Though my pride was hurt that day.
Must say that people that dont help others up when they have fallen down are ********. But it happends that people laugh first and then asks if you are alright. Nice people. And on metal band concerts when people are having mosh pits and people fall down, 10 poeple go to help him/her up, it's quite a view to see.
Oh, another event tied for the worst. Shows that people will still be f*gs to you without provocation even if you're not being hostile. I know it's probably racist for me to say, but all these types of conflicts were caused by young white guys.

I was going to eat dinner with one of my college buddies. As soon as we got off the trolley, we encountered a little girl who was trying to sell candy bars. My friend is pretty stingy, so she didn't want to buy one and kept walking. I felt bad, so I stopped and paid $2 for a candy bar I would never eat just to help out. She only had the ones I didn't like left over.

When I went to catch up to my friend, who had stopped to wait for me, some short, skateboarding white kid with a frizzly haircut who looked like he was in high school called out to me and tried to make me buy another one. When I told him I already got one and that I needed the rest for dinner, he started shouting racist things about how Asians are all stingy mother****ers. I got angry immediately. Seriously, what was his deal? I helped out and he was being a prick. He didn't stop there. He kept yelling and following us so I snapped.

I told him to come say one more thing to my face and reached for the knife that I always carry in my pocket. The guy came up within 2 feet of me and looked like he was about to swing at me with the skateboard. Just as I was about to pull out my blade to defend myself, his friends came and apologized to me. They told me he was drunk, which was BS since I don't know any drunks who can skateboard well and I would've smelled the alcohol on his breath. Apparently they'd been watching and jumped in when they realized he was being stupid. I don't like conflict. Still, I really wanted to deck the guy in the face. My friend must have noticed so she came up to me and pulled me away forcefully by my hands.


I cried during math class in 8th grade.

If that wasn't bad enough, in 12th grade I had this jerk spencer turn to me and go: "Remember when you cried during math class?" in front of a ton of people including a girl I liked.... My face turned red and they all laughed at me.

At the time I promised myself that I wouldn't outright kill him, but I swear, if I happen to randomly run into him again someday and nobody's looking -- they'll never find his body.
necrosombia
The WORST thing that ever happened to me was when actually a few years ago lol... I was sadly enough on a bus with my cousin (who btw was 5 at the time). We where going down to the Water park when I just had some terrible food and it didn't agree with me at all. I started to pass gas on the way there. Always blaming it on my cousin( yea horrible I know). He got mad saying it wasn't him untill I passed gas a little too hard and "it" popped out. I tried to remain calm as I didn't say anything.

As the bus pulls to our stop. I get up and start walking to the end right when my cousin yells "See I told you it wasn't me." I look and there is a huge brown spot on my butt.

Moral of this: Don't pick on your family members, It was always bite you in your butt(literately).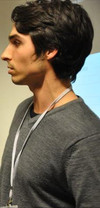 Whoa, these are truly traumatic stories.
I'm cringing just reading them, much less having that happen to me.
bemused_Bohemian
Twenty plus years ago I had issues with bad teeth. I had a root canal performed in a location near the front of my jaw and the dentist put in a temporary cap at point of entry. This meant a delay getting the crown (or whatever the tooth was made of) and fitted. Since I made my living at the time as an OTR trucker this meant living with the cap (try eating) while on the road away from home. Long story shortened the damn cap kept falling out when I was chewing. Vaseline petroleum jelly works well as a glue but after many "fails" I finally chose to leave it off until next dentist visit.

The truck line I drove for acted like most truck lines. Ideally, it would be nice to get home once every 2-3 weeks but during my "tenure" with MNX (no longer in business as a truck line but still a very successful online shipment broker) once every 5-6 weeks was the norm. After awhile I got used to speaking funny and posing in pictures as a Jack-O-Lantern. I was really popular in late October for some reason. Humilation all at once usually isn't tolerated if you're at all human, but when it comes at you in small bursts you make exceptions.