My fingers do.
They are like the most buff fingers ever.
Typing and drawing and playing the piano and writing and hitting buttons all day.
It's intense.
Satchii_dono
twice a week an keep an healthy chubby body
Yeah, I exercise everyday.

We do baseline sprinting drills and conditioning in my basketball team.
well ive been doing MMA for 3 months and i dont plan on stopping
KrimsonGray
2Pain4
wrote
:
KrimsonGray
wrote
:
I go to the gym 3-4 times a week. Lost 20 pounds so far this year.
don't go to gym but lost 30 lbs and gained 7lbs of muscle and counting. XD
Yeah weight lifting is good for helping to lose weight.
I eat healthy. I try to run a few times a week. I am very active in different sports. I work at a place where i am moving around a lot so that helps too.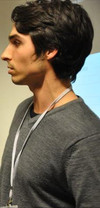 I tend to gain a few pounds over the winter where the days are shorter and I stay indoors more. Holidays like Thanksgiving and Christmas don't help the cause haha.

Once spring and summer hits and the days are warmer and longer I lose about 5-10 pounds, most of it from running and swimming, also eating fresher foods and more fruit. Also when it's warmer I'm never fully as "hydrated" as I am during the colder months so I have less water weight.
I miss it. I dropped 10kg in the past 3 months.

Haven't done it for a week. My cold is still looming. Every time I do it or go outside it gets worse. I realise I'm delaying my convalescing by exerting myself.


I used to think I hated excessive, but ... I feel so sore when I dont.
I hate conditioning and running just for the sake of it, but I LOVE LOVE LOVE to play in games, like badminton, basketball, swimming etc
Coffeebot
Holy shit... people still use the BMI as if it means something? you can be 12% Body fat, tall and heavy and the BMI will tell you you are obese, much better off using some skin calipers and measuring your body fat percentage, as it's accurate (within reason) and gives you some useful information... it's also not out dated.

Now to answer the topic... I got to the gym 3 times a week for weight training, managed to lose 3% body fat and gain 13kg over 6 months, it's great being 141kg and 29% BF.
XxNaruTheNarcissistxX
wrote
:
I like weight lifting and running. Though my new thing seems to be jumping, grabbing my roof line and doing pull-ups. Its just makes me feel bad ass..
Ooooh yeah.
What is exercise? Is that edible?


I like food.