"bing bang ding ding ding akeding ding ding ding, oh panko ding ding diiiiiiiiing"

-bing bang by corkey buchek
um.....lemme think...
"broken hearts can be glued back together, but the cracks would always be there."
read it in some book about war and stuff.
impala1
wrote
:
"I don't want the world to see me, because I don't think they'd understand" - GooGoo Dolls
Awwww!!!!!! "When everything's made to be broken, I just want you to know who I am..." Or something like that... I'm too lazy to look it up!!
ROLF! Don't forget:
http://www.youtube.com/watch?v=-nzhGOCTLbI&feature=endscreen&NR=1
http://www.youtube.com/watch?v=RkC6QCR_xoc&feature=related
The song, Goodbye Horses is actually really good. "I've seen it rise, I've seen it falll... Alll things pass, into the night. But, I said, 'Oh, no, sir! I must say you're wrong! I must disagree...'" It's a pretty positive song lmao.
Rajyrr
wrote
:
"Where have all the good men gone,
and where are all the gods?
Where's the streetwise Hercules to fight the rising odds?
Isn't there a white knight upon a fiery steed?
Late at night I toss
and I turn
and I dream of what I need.
I need a hero. I'm holding out for a hero 'til the end of the night.
He's gotta be strong
and he's gotta be fast
And he's gotta be fresh from the fight.
I need a hero. I'm holding out for a hero 'til the morning light.
He's gotta be sure
and it's gotta be soon."
WOOOT IMOGEN HEAP FAN IN DA HOUZ!!!
"Lover I Don't Have to Love" by Bright Eyes
I want a lover I don't have to love
I want a boy who's so drunk he doesn't talk
Where's the kid with the chemicals???
I got a hunger and I can't seem to get full
I need some meaning I can memorize...

"We are Nowhere and It's Now" by Bright Eyes
If you hate the taste of wine
Why do you drink it 'til you're blind?
And if you swear that there's no truth and who cares
How come you say it
Like you're right?

Why are you scared to dream of God?
When it's salvation that you want?
You see stars that clear have been dead for years
But the idea just lives on...

I got no plans and too much time...
I feel too restless to unwind,
I'm always lost in thought,
As I walk a block, to my favourite neon sign.
Where the waitress looks concerned
But, she never says a word...
Just turns the jukebox on,
And we hum along,
And I smile back at her...

And my friend comes after work
When the features start to blur
She says these bars are filled with things that kill
By now you probably should have learned....

"Sunrise, Sunset" by Bright Eyes
Sunrise, sunset.
Swiftly go the days.
Sunrise, sunset.
You wake up, then you undress.
It always is the same.
The sunrise and the sunsets.
You are lying while you confess, keep trying to explain.
The sunrise and the sunsets
You realize then you forget what you've been trying to retain.
But everybody knows that it is all about the things
that get stuck inside of your head,
like the songs your roommate sings
or a vision of her body as she stretches out on your bed.
She raised her hands in the air, asked you,
When was the last time you looked in the mirror?
Cause you've changed.
Yeah, you've changed.
Sunrises, sunsets.
You're hopeful then you regret.
The circle never breaks.
With a sunrise and a sunset there's a change of heart or address.
Is there nothing that remains?
For a sunrise or a sunset.
You're manic or you're depressed.
Will you ever feel OK?
For a sunrise or a sunset, your lover is an actress.
Did you really think she'd stay?
For a sunrise or a sunset.
You're either coming or you just left but you're always on the way.
Towards a sunrise or a sunset, a scribble or a sonnet.
They are really just the same.
To the sunrise and the sunset.
The master and his servant have exactly the same fate.
It's a sunrise and a sunset.
From a cradle to a casket.
There is no way to escape.

Bright Eyes always has amazing lyrics. I suggest you guys look into the following songs if you liked these: "Arienette," "I know you," and "I must belong somewhere."

But here are some other really good songs:

"Lemonade" by CocoRosie
It was Cinco de Mayo, pillowcase on his head...
No more breathing time,
An ambulance sped.
It sped 'round every corner,
Calling out his name...

"Werewolf" by CocoRosie
Lose grip on gravity, falls.
Sky blinding, crumbling walls.
River sweep away my memories of
Children's things, a young mother's love, before the
Yearning song of flesh on flesh...
Young hearts burst open wounds bleed fresh..

"Eet" by Regina Spektor
Someone's deciding... whether or not to steal.
He opens a window, just to feel the chill.
He hears that outside, a small boy just started to cry.
'Cause it's his turn, but his brother won't let him try.
(If you listen to it, it'll give you chills).

"Promise" by Ben Howard
And meet me there, bundles of flowers, we wait through the hours of cold
Winter shall howl at the walls, tearing down doors of time
Shelter as we go...
And promise me this; you'll wait for me only, scared of the lonely arms...
Surface, far below these words.
Maybe, just maybe I'll come home...
Who am I, darling to you?
Who am I?
Darling for you...

"Titanium" by Sia (Written and performed by her, I guess the tiny bit of dubstep was the other guy...)
But I can't hear a word you say
I'm talking loud not saying much
I'm criticized but all your bullets ricochet
You shoot me down, but I get up

I'm bulletproof, nothing to lose
Fire away, fire away
Ricochet, you take your aim
Fire away, fire away
You shoot me down but I won't fall
I am titanium


BUT MY ALL TIME FAVORITE SONG IS LIKE A STONE BY AUDIOSLAVE!!!

windsagio
Probably the saddest expression of missing a friend who died I can think of
http://www.youtube.com/watch?v=uHmTXbbIvjM

now he's let go
So let it be
He's free
Freer than me
I find it kind of funny
I find it kind of sad
the dreams in which I'm dying
are the best I've ever had


It's the silence that kills me the most.
Drakkle

If I told you the truth now
Would you still leave and take my heart?
And I still feel ugly - you're ugly just like me
Good ol' Bleeding Through still gets me to this day.
"sometimes I wanna disappear" Houdini- Foster The People

"I'll just keep dreamin' of what I'm never gonna be, I can't think of a better way than to waste my time than to try" Sick Puppies - What Are You Looking For?

"If I had just one wish only one demand, I hope he's not like me. I hope he understands, that he can take this life and hold it by the hand, and he can greet the world, with arms wide open" Creed-With Arms Wide Open

"I hate everything about you, why do I love you? You hate everything about me, why do you love me?" I Hate Everything About You - Three Days Grace

"And I'm still here, and you're not coming back, you're not coming back.." Low Shoulder - Through The Trees

"And what hurts the most is being so close and having so much to say and watch you walk away" Cascada - What Hurts the Most

"Well she wants to live her life, and she thinks about her life, pulls her hair back as she screams, 'I don't really want to live this life'.."

"The models will have children, we'll get a divorce. We'll find some more models. Everything must run its course" MGMT - Time to Pretend

"Can you hear me cry out to you? Words I thought I'd choke on, figure out. I'm really not so with you anymore. I'm just a ghost, so I can't hurt you anymore, so I can't hurt you anymore" This Is How I Disappear- My Chemical Romance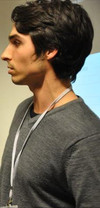 You're gone from here
And soon you will disappear
Fading into beautiful light...
Cause everybody's changing
And I don't feel right

So little time...
Try to understand that I'm
Trying to make a move just to stay in the game
I try to stay awake and remember my name
But everybody's changing
And I don't feel the same
Aaron Waters/Ron Wasserman- 5-4-1:

"You'll come calling, slowly crawling
Attitude defined
Take and conquer, is your honor
Weak of soul and mind
Call on the five
Keep hope alive"

And yeah this is from power rangers XP


do the impossible, see the invisible, row row fight the power
touch the untouchable, break the unbreakable, row row fight the power
Tengen Toppa Gurren Lagann OST
" i saw the sun, the moon, the mountains and the river, i saw heaven when I made sweet love to you "
'I've seen things you people wouldn't believe. Attack ships on fire off the shoulder of Orion... I watched C-beams glitter in the dark near the Tannhauser gate. All those moments will be lost in time, like tears in the rain. Time to die.' - Roy Batty, from Blade Runner. In my opinion, it's one of the best films ever made.