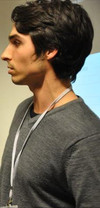 I fantasize and daydream. Honestly, I am pretty good at becoming lost in thought.
JelloBear
Daydream, browse the Internet, listen to music, or watch TV.
Aokidanza
Daydream. Hum or whistle. Drum my fingers. Click a pen. Tap. Comb my fingers through my hair. Doodle.

Basically, every annoying thing I can possibly do that usually drives people up a wall while waiting in a quiet area like oh, say, a midterm exam room. (aka the most boring place in the world to be stuck waiting in. For an hour. In total silence. For a bunch of dummys that should have studied harder.)
hhmm... wen i wait for something ..like wat?
Pace around or get ready.
watch my clock trying to make time go faster
play draw something, make coffee, re-arrange things
Depending on what it is I'll either sit on my ass without a care or pass around anxiously.
I just pace around when waiting.... Even when just waiting for a bus or something i always pace up and down the street.
Usually I will text people or call some friends when I am bored
Fun times
I play Angry Birds or Tetris :/ Tetris is always my favorite. Sometimes I read On The Origin of Species on my kindle app because nothing's quite as amusing as evolutionary theory.
smoking.
if its in non smoking zone - enjoying artbook on my phone.