Can people see me? If so what is the point of clothing.....
As a ghost can I move thing? If so I would go into a house while the family is on vacation and do a house renovation. Then when they return I hide a video cam record their whole expression; then next day I send them the video with the note saying "Boo".
What would I wear? probably a kimono.
Where would I reside? probably Akihabara
What would I do? Watch anime and read manga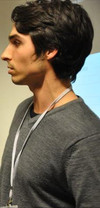 I would ectoplasm. Everywhere! :)
urinate ectoplasm in the mouth of a mortal when they yawn.
moonhawk81
I'd stay home and offer guidance to the family down through the generations. As for my attire, I'd probably stick with the comfortable--my regular cargo pants and T-shirt.
i would Gangnam Style naked at the White House...
wolfsaiga
fun stuff. take over people's body and have fun with it. record them making food that they could never do and play a video when they wake up. i'd have the president doing the disco on top of water.
mesomuffin
I'd probably just be that creeper ghost that chooses to remain in someones closet and scare the crap out of them.
Or i'll be like the Sims ghosts that just occupy your bed or eat from your fridge. Maybe a mixture of it all.
KrimsonGray
wrote
:
Aside from being relieved that there is some sort of existence after death, I suppose I would read more manga and watch more anime.
Find anyone else who's a ghost, like a famous person, and ask about their lives. If you have nothing to live for anymore why not gather up some info. to not stay bored?
Plus, I'd love to visit my family and check in sometimes. Although as time passes I think I won't visit as often since they would have long moved on with my death. But to see where and how it grows would be nice. Same with my friends.
I'd play tricks on people. lol, not bad ones, just being playful to have a "friend".

Some stuff like that until I can pass over to wherever it may be.
If I were a ghost, I would continue to watch anime and read manga. I'd have plenty of time for it.
will start freaking thee shit out of people.