Hey guys, this is Victoria ~ ! What am I doing holding a basketball? Well.... before I became an anime fan, my favorite movie was Space Jam. But recently, I've been watching
Kuroko's Basketball
, and it's given me a great idea for yet ANOTHER contest ~ !
http://www.crunchyroll.com/kurokos-basketball
You know, as great a sports anime as
Kuroko's Basketball
is, I can't help but feel that "The Generation of Miracles" really is a vague name for a basketball team, and you know, their uniforms are almost JUST as vague !
SO, for this contest
let's design NEW UNIFORMS ~ !!!!!
Using this template below, I want you to color, cut, paste, paint, sew - whatever ~ ! Just decorate these blank uniforms somehow here to create new and exciting jerseys for the Generation of Miracles to wear at their next home game ~ !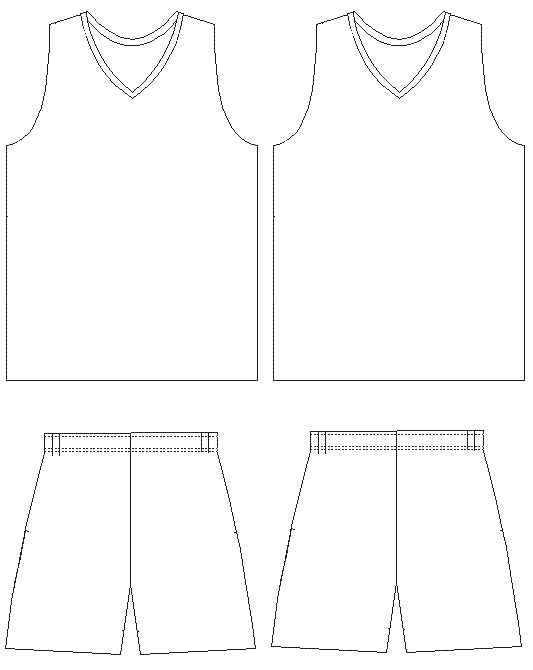 You can either print this out and color it, use paint, use photoshop ~ You can color them and then paste them onto a picture of yourself - anything !!
Surprise us and post your best efforts in the thread below!
We will be picking five (5) of the best ones and rewarding the first place winner with PRIZES!
THE GRAND PRIZE.....
A fabulous set of Kuroko's Basketball character key chains direct from Japan!!!
The four remaining runner-ups will receive their choice of a free 90-day Anime Membership at Crunchyroll, or a Prize Pack filled with neat-o anime stuff!
THE DEADLINE
is next Friday the 8th!!! So start dreamin' up your
Kuroko's Basketball
uniform today!
AND WHILE WE HAVE YOUR ATTENTION!
We wanted to introduce you to the latest star in the Crunchyroll universe...Rosalie of
SHOTanime
. For our money, she's the BEST anime review blogger in the universe and now she's got her own page on Crunchyroll where you can watch all her reviews! To get you started, we've embedded her very latest review...and it's for
Kuroko's Basketball
! How perfect is that????
SHOTanime on Crunchyroll
----

OKAY EVERYONE ~ !!! We have chosen our winner and let me tell you, it was VERY HARD.

All these contests are hard.

LIFE IS HARD.

But, anyways, we're going to send the keychains to Crunchyroll's own : Whistlei ~ !!!!! <3




Not only is the uniform well-designed, the name on the BACK OF THE SHORTS is just TOO FUNNY. It makes perfect sense as any Kuroko fangirl or boy would know ~ <3 It's a uniform that is not so flashy that it wouldn't make sense to wear, but it's still fantastic enough to win our grand prize ~ !!!!

Thank you to all the contestants, and special thanks to Hualani for always keeping up with our contests and making sure people are having fun and understanding the details. You are awesome.

Whistlei ~ !!! Please message me your address so I can relay it to our boys in Japan and they'll send these right over ~ ! <3

Congrats again ! And keep watching Kuroko's Basketball ! We might have another lovely contest coming up !

- Bee