no. i want to so bad, jesus fucking christ do i love aliens
yo mama so fat she made numerous people believe they had seen a UFO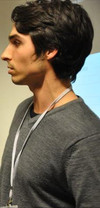 I wish Mass Effect was real.
learyan
bathroom pic!!!!!!!!!!!!!!!
Every night, I see the inside of one...


[serous note, gram says she has....]
Nope. I am one of those who believes that they are likely special government aircraft.
dragon773
I believe twice that I did.
I believe so, yes. It could've been a lot of things, but I'd go with UFO myself.

This was back when I lived in the countryside, in Chile, in a place where you could see the Milky Way practically on any night that wasn't cloudy. The object itself was transparent, but you could make it out due to the way it warped the night sky into a fish-eye, sort of like if a giant magnifying glass was being dragged along the sky.
It moved very slowly, changing direction slightly once or twice, until it simply vanished. A bunch of my neighbors gathered to watch it together, but no one knew what to make out of it.
dragon773
As UFO goes that is unidentified, I wonder if some could actually be classified aerial craft possibly with active camouflage tech as they are working on that. As for what I saw I've lived like 5 minutes away from an airport most of my life and know that they were not planes or conventional aircraft.

First time I saw a glint in the sky out of the corner of my eye from my kitchen window and it was a shiny object slowly moving in the sky that stopped for a little then moved again before disappearing.

Second time was a bunch of objects that were flying in what looked like a figure 8 pattern while I was walking home from school many years ago. I was watching them for a minute or 2 when I called over to my friend to look up at them too then they vanished after that.

Both of these incidents occurred on bright sunny days with few or no clouds.

Interesting, well I wouldn't be surprised if the government already has aircraft that are similar to UFO's. I mean, we wouldn't know about it anyway, but it's interesting to watch the sky sometimes. I'm not sure if I seen a UFO, but I saw a couple of comets and I think one was a satellite? Youtube has some interesting videos though, but probably most of them are fake.
im not a psycho or anything, but when i was a kid me and my friends saw a UFO,no it wasn't an airplane i had seen dozens of them, it was a really weird feel, this was like 9 years ago thought
learyan
u can find a UFO at google earth its by area51..