Without my beard, I'd look like I belong in middle school or high school. I leave my beard to grow, and trim my mustache so that it doesn't go over my lip. I do style my beard, mainly like a chin curtain (sorta like a chin strap but thicker sideburns and beard line), but I always have my goatee and soul patch if i have to shave.
I know it's a bit random but this thread reminds me of this post I saw on 9gag.
Spoiler Alert! Click to show or hide
JoAnime3853
Yes facial hair on guys is always a yes!
Depends on what the guy looks like. (If that makes sense)

But usually I prefer no facial hair, it looks untidy most of the time so I'd just prefer it if it wasn't there.
As a guy, nowadays I generally go with a medium-short length mustache and clean shave everything else I've got.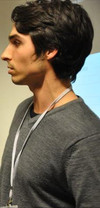 Facial hair helps keep the face warm in the cold of winter. :)
Although I keep my face shaved...for work.
Banned
Facial hair on me makes me look lame.
dark9081
I don't like the look of me without facial hair.. I look so plain and lame.
I've always maintained a nice stubble, and alot of chicks have digged it/ love it.

But, it's not for everyone.
I like a soul patch and that's about it. I love that my fiancee is asian and rarely needs to shave. I don't like beards. gack.
It's already been said, but it truly depends on the guy. Though, I usually prefer the scruffy, unruly hair look-- the more the guy looks like he was just rescued from a deserted island, the better.
I don't like facial hair on me for sure.
savannahbeme
I prefer men with facial hair. If a guy is 30 then looks 15 when he shaves, it's kind of a turn off. I like long sideburns, stubble, well kept beards, & random scruff. It's rugged, handsome, & manly, haha!
Banned
If you don't like my facial hair, there's the fucking door.
GayAsianBoy
DOn't remember if I already answered this... O.o CR needs to mark stuff that we already answered.


I like clean shaven men... because hair gets in the way. Not because I'm not attracted to beards or hairy chest men.