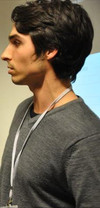 What? WHAT?!

Turn ma headphones up! Turn dat shit up!
Spoiler Alert! Click to show or hide
That's not so bad, try this:
chibi_chunky
you CRUNK?

show me your teef, money.


"Run! It's da po-po!!"

"I be pimpin'"
What you lookin' at, PUNK??!!
AH SHIT NIGGA! IT JUST GOT REAL!
I'm about to get it crackin' and freaky deaky. All the ladies in the world just dyin' to meet me. Cause nothin' about me is ever cheesy. I'll get you in the bed and make it squeaky squeaky. GANGSTA! SO GANGSTA!

*yeah it's from a song. :)))
YOUNG MONEY.

pfff idk if that's gasta or what XDDDD
baws/boss....nuff said xD
I'd do anything for my baby gurl at home with my momma.
kvi
"While we don't think young people should have to suffer any more than they already are as a result of this president's failure to turn the economy around, we just disagree that we should pay for a fix by diverting $6 billion from Medicare and raising taxes on the very businesses we're counting on to hire these young people,"

"The American people want us to stop spending. And so let's just give them some certainty. Let's extend the tax - the existing tax cuts. And then let's give some more tax breaks to small businesses and large. And then maybe the American people will have some confidence."

"I think we should worry about Social Security first and then tax cuts second."

"Liberal Democrats are inexorably opposed to tax cuts, because tax cuts give people more power, and take away from the role of government."

Oh wait this is things Gangstas would say. Not Gangsters. >_< How about "My Bad"