MissDantil
Seriously guys, 1984 by George Orwell!

One Flew Over The Cuckoo's Nest by Ken Kessy is also a great read, and one "school book" I'd purchase for myself and read over and over.

I'm also a fan of Charlotte Bronte's Jane Eyre. It can be a bit of a slog at first, but it is really interesting to see the beginnings of female heroines in literature. Plus, Jane's a pretty cool lady.

Now, I'm sure you guys want more contemporary stuff, so....

Since we're on an anime/manga/Japanese Culture related site, I REALLY recommend you read Battle Royale by Koushun Takami and Ring by Koji Suzuki. While you're at it, the entire Ring Cycle, Spiral, Loop, and Birthday. Dark Water wouldn't hurt either. Yes, it is THAT Ring and THAT Battle Royale and THAT Dark Water, as in the novels that inspired the films of the same name. I think that alone makes Ring worth reading, since you can see what helped start a worldwide boom in Japanese horror media. c: That and Battle Royale is just a great book that blows the movie out of the water, good as it is in its own right.
Willwatch4food
The Call of Cthulu-H.P Lovecraft
The Shining-Stephan King
The Devine Comedy- Dante
The Lord of the Flies- William Goulding

Unwind by Neal Shusterman, if you like animes like Steins;Gate or any science related fiction media, this is the book for you. I read it a few years back, before I became an anime fan, but it has been my favorite book since. I was in tears by the end of the book, and every page was suspenseful. Without ruining too much, here's what it's about:

Basically, the story is set after a Pro Life And Pro Choice war is fought (many years into the future, though the date is not given). To end the war, both sides comprised, and each got what they wanted.

Abortion is now illegal, but when children are between the ages of 13-18, their parents, if they are dissatisfied with their behavior, can choose to have them "Unwound." (Surprisingly many parents choose to do this). When a child is unwound, they are kept awake while surgeons remove all their bodily fluids and replace it with some sort of drug that keeps them alive. Then the surgeons remove their body parts in an orderly fashion (kid is still alive and watching), all the way up to their heads, then they piece up the brain and donate all the body parts (in some cases the teen's conscience lives on while they are completely dismembered). So this story follows 3 teens who are on their way to be unwound, for very different reasons. They cross paths in a massive accident and go AWOL together. The story follows their hardships, and there are so many twists your heart will probably give up by the end (though I don't want to reveal too much).

Well, it's a great read, and the sequel I've waited 5 years for is coming out in August!
I read almost all of
Paulo Coelho
's books. And I really love
The Alchemist
~~~
And
From Beirut to Jerusalem
by
dr. Ang Swee Chai
. But I heard it got banned in US :/
Recomended!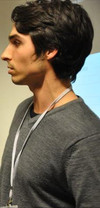 To Kill A Mockingbird

The Catcher In The Rye

Of Mice And Men

The Great Gatsby

A Prayer For Owen Meany
'animal farm' 'i am a pole, and so can you'
iamtheredseven
Try reading Deamon sometime. Definitely an eye opener.
beastlydude96
The Madmen Underground. You will wish it continued forever.
I think my favorite book is Narnia, the first book. I remember my teacher reading it to the class in 5th grade hee hee
My favorite book is of Mice and Men, love it:)