shopping, online shopping, watching youtube vids, talking to my crush on msn, watching anime, movies, drama, sleeping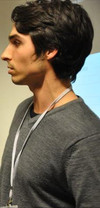 I love going to the movie theaters or renting a good flick to take home.
lord0bacon
I'd say watching anime.

Ping-pong.

Uhh... that's about it.
Happencheese
Watching anime, browsing the 'net, listening to music, reading, writing, drawing, spending time with the missus, and doing my religious practices, getting something really nice to eat... I find lots of things fun.
whatever entertains me at the moment ;D
Go to park or something and meet new people.
physical activities in general: martial arts,sports, exercises and dancing and by dancing i don't mean club slutty dancing like i see in movies ewww ,i mean group dance, breakdance,belly dancing and other eastern types of dance and salsa

i guess something that excites you and makes you feel awesome, for me it would be watching romance comedy animes or kicking ass at my MMA classes
Maiden_aya
Being bored is not good for ADHDish people. Because I tend to do the next idea that pops into my mind. And hopefully I call someone and try to rope them into my crazy idea because they may be able to talk me out of i.
As long as the other friend isn't crazy too
That's just as good as depression.