JennyMe33
I have no idea what i would do :X so im asking you
A male version of Panty & Stocking
Japan's total triumph in WWII. lol
One about a group of friends in high school that starts freshman year, ends later in life....

and it's about how they all drift apart.
Xmas_Hat
An anime about a normal family that invites a foster child into their home etc etc etc
Something epic and dramatic>
maybe about time travel? (not a very original thought...)
The epic life of brick walls
JennyMe33
And I would seduce you with all the things I could buy you with the money I made off it
in the makings of one hopefully crunchyroll plays it!!!
Juggalos: The life
of the juggalos
If God did not exist man would certainly have to create him. Voltaire

I like mind bending animes and sci-fi, so I think mine would take place in a world were a group of people found a way to enter god's realm and killed him. Now ten years later everything has gone to shit, so a second mission is set up to gods realm to instill a new god in hope of fixing the problems. It would involve over the top psychic battles.
my life.
why? cause I'm vain ;)
jk... my life is just so dramatic in my 16 y.o female mind atm.
Thought it'd be a good idea la.
I'd make a zombie apocalypse survival movie that actually focuses on zombie apocalypse survival.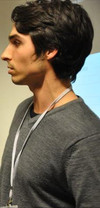 Uptown Girl - from posh old wealth

meets

Downtown Guy - of backstreet slums