The ability to where only you would move in Super Slow Motion.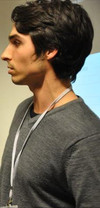 The ability of being a master swordsman, but only able to utilize that skill with a long pillow.
There's no such thing as a useless super power. I bet I could come up with a use for all of them.
The power to see through glass....Oh wait-
The ability to become a famous pop singer at will.
lol so many funny ideas in all those posts.

-The super power of being able to detect who is watching porn up to 5 km away.
- The super power of insect vision (good luck trying to live with fly eyes)
- The super power of talking with dead people (talking, not hearing an answer xD)
power that nullify other power if you been the only one that has power then what the use of that


Even glass becomes opaque when it's thick enough.



Lol, I don't even need to put how this would be useful




- Use the power to black mail families into giving you money. Plus, if you ever decide to build a fortress, you can fill the walls with tv's showing porn. You'll instantly be able to locate anyone who tries to break into your fortress.
- That's not a super power, that's a deformity lol.
- At least you can annoy them enough to tell them to fuck off.




You can nullify your own power, which means you couldn't have nullified your power in the fiorst place... paradox! BOOM WORLD EXPLODES


- The ability to breath air.


- The ability to turn invisible as long as no one looks at you

This could be useful if you wanted to rob a bank with no one in it since the cameras can't catch ya.
-To glow in the dark....
-To become a mouse
this just reminded me of some superhero movie
Oliviamayhem
-the ability to sprout fur on the backs of your hands whenever anyone says Zippadee doo da.
-the ability to withstand the pain from pinching
-the ability to do a roundoff in a 12" X12" space
-the ability to make movie fee late for the president
- being able to see through tinfoil, but only on tuesday afternoons
obviously the ability to talk...really slow