Winterfells
wrote
:
So will I get to take a bite from your apple?
Only if you were a good boy.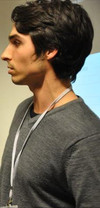 RawrAlex
wrote
:
Winterfells
wrote
:
So will I get to take a bite from your apple?
Only if you were a good boy.
I guess that means I should put away the "talking snake."
Xmas_Hat
you should focus on learning how to deal with it instead of asking why people are mean
Because they are attention seekers.
Lots of barking and not enough biting from them, and apparently adversity is a part of life including assholes. Not to mention there is an asshole in each and everyone of us.
AsuraCryin
wrote
:
Kindness gets you nowhere in the world; it is a harbringer of pain.
...not entirely true...sometimes it is the PERFECT thing to unhinge some narcissistic asshole who is trying to get under your skin and provoke a negative reaction...it's rather fun to see them implode when you give them the opposite
because people like you make simple grammar mistakes.
All I wanted to do was know what people were thinking. BANANAS.
because they have no hearts
Because they're ignorant.
Many of the people I've encountered was mean to me and I don't even know them. What other accurate reason besides ignorance is there for an individual to bully/jeer a person they've just met and know nothing about?
darkness815
It makes them feel better, or in the internets case, its because they can remain anonymous
Not everyone is going to like you?
it's hard to feel sorry for mean people because they're well, mean. but if someone goes out of their way to hurt your feelings it usually means that there's something deeper going on, most likely that they're really insecure or angry. bringing someone else down makes them feel temporarily better about themselves, smh