for me no but in some asian cultures looking at someone with higher status in the eye is a sign of disrespect
sadpatriot27
i dont have too much problem with it but i dont really like staring at people
hollowHERO
wrote
:
Sorry if this was a boring or dumb question, for you. I'll refrain from posting any more topics in the future..
That's okay. I'm the Minister of Silly Threads.
I do understand that eye contact in the western world is important, but it's so weird, staring into someone's eyes... I feel like an owl... O.O
if i'm comfortable around that person i give contact but if not i usually look at my feet
If i know the person I'm making eye contact with but if not then its weird. Though alot of my friends know Im pissed when I make eye contact with them because I usually dont do that.
Making eye contact is fun, usually makes others feel uncomfortable and wanna look away. But, there are some who won't look away and that's scary
.. it's like having a staring contest XP
i actually rarely look people in the eye, i'm always darting my head around and stuff because direct eye contact for too long makes me uncomfortable

nobody's ever called me out on it though so i guess it's not a big deal
RavingDragon
eye contact for much conversation is essential for me. I get turned off if I don't have eye contact.
I've had girls tell me they don't trust my eyes, and when I ask why, the only answer they can come up with is because they're dark.

Apparently you need to have blue eyes in western society if you want to be trusted.
actionfrank1
be careful trying to stare down strangers its a good way to get stabbed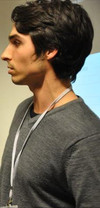 I always look people in the eye, especially when I'm talking with them. I consider it rude not to share eye contact during a conversation, because it shows a lack of giving them your proper attention.

It's not a hard thing for me to do - there's a lot you can measure about a person by matching their gaze.
no because i'm not autistic
A lot of Asian people are taught not to stare at people in the eyes, since it shows defiance and disrespect or something, but this is different in western culture. I guess a bit of the former remains in me.

The further away they are, the easier it is for me to make eye contact. If the person is really close to me, I'll just look at their eyebrows or something. If it's my friend, I'll stare into his/her eyes for unnaturally long periods of time just to creep them out. It's hilarious.
I was called a flirt by my ex boyfriend just cos I had an eye contact with him while smiling.