Do girls have dirty minds? DO GIRLS HAVE DIRTY MINDS?

Just a few years ago, two of them were exchanging fecal matter in a cup. So... yeah, I think girls are capable of having dirty minds.

The quiet ones/intelligent ones are freaks thats all I'm saying.
bmeadows0923
Oh hell yeah. I'm such a perv sometimes when I think dirty, haha. ;-)
bmeadows0923
Yes, that is very true. ;-)
I kno they do. The rumor says they are humans too :c
ThePinkRanger
It's only natural for humans to have "dirty thoughts" regardless of gender.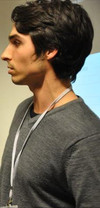 That's kinda hot, I won't lie.

I feel like asking that guy, "why so serious???"


I'm actually kind of curious where this is from
I'd say they do, my girl straight grabs my butt as we walk up stairs so I try to run up them as fast as I can.
Incidentally this also turns her on.
Woman have just as dirty minds as men do. DONT LET THEM FOOL YOU. I KNOW...