yes, women can think with their dicks just like guys can
Oldthrashbar
Women are extremely dirty. But unlike men.. they aren't always as open about it. But I can almost guarantee that if you are at least a somewhat attractive male (not many men are blessed with my looks) and you walk up to a woman who appears to be single and say something extremely dirty to her.. there is a 78% chance she will go home with you.
The reason why most women are not so forthcoming about their fantasies is because it is frowned upon. We're supposed to be these "innocent" creatures who frown upon the greedy, dirty thoughts and actions of men, but in reality all of that has brought what?

Romance/smut novels and most of them are written by women.

Men and women are animals. Guys are more foreword about it but women are more discreet. However, since sex is a primal need and women are taught at a young age to keep themselves in check, our minds can wonder for hours on all different types of naughty things.






Everyone has them its just that men state them girls....not so much.
Your mom thinks I have a dirty mind.
Your mom knows I have a dirty mind..
darkness81
wrote
:
xD yuuuuupppppppppp all my
female friends have dirty minds >D
Lol Same here XD We always laugh in the class
And when the guys heard what we were talking about they go like " O.O Whuuttt?!?!!?"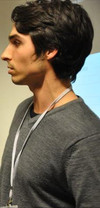 Women obviously undress a lot of men with their eyes.
Oliviamayhem
I am a dirty minded girl. so affermative. But im old so it doesnt count.
gaara576
Everyone has a dirty mind.....EVERYONE!
But of course. I touch myself every night before bed.