NoBreyner
The original poltergeist when I watched it for the first time. Nothing has scared me like that since.
If you can count it as a game, Saya no Uta. I had trouble getting it to run on my computer and by the time I finally started to read/play it it was midnight and I was in my room in the dark. I did not sleep that day.

A while after that I got Amnesia as part of the humble bundle. Not as creepy overall as Saya no Uta, but it had plenty of moments that scared me and had me cursing rather loudly in the middle of the night, and it did a great job of giving you the feeling of really running for your life.
I don't know. Hello Kitty?
Tetyro
Doom 3 scared the shit out of me in my younger days. Even today i still cant handle certain scary games/movies well.
scariest movie i saw i forget the name but i remember the trailer said something like this " if you scream it will cut your tongue out " well something like that i cant remember
Agate86
Game: Either Fatal Frame or Siren series, hands down lol.

Movie: Has to be Ju-On.
Im downloading Slender and scariest movie? I AM Legend. o.O There where zombies in my room that night I swear!
The scariest movie I've seen is Ruggine, by Daniele Gaglianone.
Dead space 1 and 2 with all the lights off at night and with the sound turned way up :3 only way to go!
Bob_Bob_Law
Movie is hands down Ju-On

as for games that's a hard one I can list a few

Fatal Frame
Clock Tower
Silent Hill
Siren
Amnesia
Cry of Fear (HL mod)
Nightmare House(HL 1&2 mod)
Zatheko
Movies hardly ever scare me, but games... Amnesia for sure really got to me, also slender got a few jump scares out of me haha
Now?Slender.....

Back in the day? it was Resident Evil 4, though I couldn't make past the first part of the game..I was too scared. And still to this day I can't play it.


Scariest movie? All of them. I'm a chicken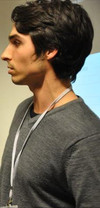 Rosemary's Baby freaked me out.