- My hair. I have naturally dark brown, curly and thick hair.
- My eyes. They are quite big. I like them. The colour (green) is also pretty nice.
- My face. I have no spots or anything like that.
- I look younger than I really am.
- I like my bottom/hips. I think it's the best part of my body. It's measurement is 35.5 inches.
- I look like a foreigner. I think it's nice that I don't look like a typical Finn.
- My hands. They are small. And my fingers. They're long and thin.
i have the legs to kick your ass.
Everything about my existence is perfect. Every single aspect of my physical features is flawless.
If you believe otherwise I want a full explanation in 8 pages explaining your perspective in at least 3 areas of knowledge (excluding ethics) due Monday.
i get complimented on
1. my beard
2. my eyes
3. my tallness
4. manners
5. personality
Halobravo
My eyes and maybe my height? 6'4
kakashi2k7
my muscular and large bones and thickness
Eyes.
Height.
And boobs I guess.
Best features? My eyes and lips get brought up... a lot!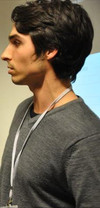 After seeing what happened to RGIII's knee in last weekend's Wild Card game, I'd say my best physical feature right now is my ACL and LCL.
Eater of Worlds
Bedlam
Pharaohmone
... My Pharaohmones? ( You see what I did there? :B )
My... hair?
People seem to like my hair, before (when it was long) & after when I cut it to a shorter, tomboyish length.
I'm not sure about anything else. I don't really like taking compliments, nor do I see anything noteworthy about my physique.
I think I have two best features...

1.) My big brown Eyes, I'm always getting complemented on them. "Big Brown Chocolatey Puppy Eyes FROM HELL" My ex used to call them :P

2.) My slender male figure. I am naturally a realllly skinny guy, which I generally wouldnt have thought women would be attracted to...but then I started meeting tons of anime fangirls who seem to have a thing for slender male bodies. I do need to put on a bit more weight though.

I HATE my nose and hair...ugh.