A lot of people, myself included, tend to identify and focus on their flaws.

What flaws do you dislike/hate the most? Do you have confidence?
Do you believe in the saying that "you see yourself differently than other people see you"?

What things do you consider to be "pretty" or "ugly" on the opposite sex? (e.g pale skin)

I try not to classify people before I meet them, because I rather get to know someone first to see if they are truly ugly or beautiful.
don't really caaaaaaaaaaaaaaaaaaaaaaaaaaaree
Their attitudes. A woman can be absolutely beautiful yet vile on the inside and it shows through easily.
The personality. Sounds cheesy and corny to say, but in the end that's what matters. Looks fade over time, and the only thing you have is far more deep than just your skin. I always look for the personality and that's what attracts me the most, though of course - as a human being you will take in how someone else looks. But still; it's who you are that makes you special.

All the makeup in the world cannot hide an ugly heart.
any woman has the potential to be gorgeous the ugliness always lies in the personality whether it be laziness and expecting others to take care of their every need or the deceitful backstabbing nature most girls have
Definitely personality in guys. Also, how they treat their family is important (to me at least).
Physically?

Pale skin is a + for me. Then again, there is something about asian / native american / indian women I like. Can't put my finger on it, but the faces (more japanese than asian, I think it's the high cheek bones.) If they have pale skin, they look better with a bit more on them, I suppose, but the more dark or tan, they look better thinner. No fair skin person ever looks good thin I think.

As far as personality, I like girls who aren't easily offended. I like to tease a bit, so it's good if they can take it. Better if they can give it back. I love gals with quick whits. The educated dumb girl I suppose would be a good description.

The flaw I hate the most is arrogance. If you aren't in the least humble, nor can you be humbled, you are just a total wench. what you do should reflect your ability, and you shouldn't need to tell everyone how able you are.

As far as flaws in natural appearance, Buggy eyes (the ones that stick waaayyyy out) tend to bug me. And I suppose I would find a women who was cross eyed a bit distracting.

Do I have confidence? I do now. For me, confidence didn't come as naturally as it does for some people. What really helped was living on my own after high school. I had a good job, got a new car, and things just sort of worked themselves out.


My advice is if you are looking for a bf or what not, don't get into a relationship with a guy that doesn't know what he's doing in the next 5 years. If he doesn't have a plan to succeed in the next 5 years without you, he won't have a plan that he believes in with you. I find it detestable for a man to be looking for women when they can't support themselves alone. They shouldn't chain down another person to take care of them where they aren't quite alright. Find someone who has it figured out despite your presence, not because of your presence.
Personality - even for those less fortunate of appearances, personality speaks for itself
darkness815
their attitude is what i judge by
The face. That's how I know. I know I shouldn't judge on girls but still someday I want to marry a beautiful woman in my life.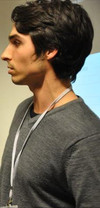 To me it is equally important to have physical attraction as well as attraction towards their personality and having that chemistry. I wouldn't compromise personality for looks, or looks for personality, in a serious relationship. I'd be looking for both a great personality, good looks, and intelligence. Why settle?

As for what I find pretty, I think full lips, dimples, a cute smile, and sensual eyes to be attractive. I don't really care whether a woman has softer features (feminine) or striking features (like a model).
Arrowproof
for me natural is beauty, it stays true for both appearance and personality. As for the flaws... we all focus on flaws, all we care is their good side good enough for us to accept thier not so good side.