moonhawk81
wrote
:
Police Officer. (I don't have to cosplay, I just show up. . .)
Oh wow. This is pretty awesome to see someone out of the usual demographics posting on these boards.
I work for a start up videogame company as a contractor while going to University.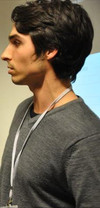 toxxin
wrote
:
Ya know, honestly I'd believe it.
As for me I had a job until I quit it to go back to school. now I need to find part-time employment so I have the gas money to get there.
Can't see me as corporate businessman?
I realize I come off as a manwhore on these forums, but I assure you that I don't do
that
for a living. ;)
Maybe you can find part-time employment in retail like clothing distributors at the mall or Costco, or waitering at a restaurant. Since high school kids and college kids are heading back to school soon, a lot of those positions will be vacant.
s1Lykos
I intern (paid though) at JPL for NASA over the summer mainly help with Ground Truth, configure scripts for aerial stitching software then process images, and analyze performance of software the Aerial Imagery Division makes. I'm going back to USC tomorrow to be an academic alcoholic again though.
Hi all. It's pretty neat to see all the different things people on here do. I work in a library. Part of my job is collection development (ordering books, movies, etc.). I'm not officially a librarian though, at least not yet.
Hervedgerse
Full time student, part time print shop grunt.
Sharb8
I'm a machine operator for
www.Ceilingsplus.com
We make panels for ceilings
No, but I'm applying for some right now.
I work in a Gym... I Fold Towels/Clean Equipment
And I personal train... Story of my boring job...
cardinal2007
I am one of two founders at a startup that just launched a website for videogame reviews, www.opengamedatabase.com. We are working on some other things, but fixing issues with the site is most of my job right now.
Will start working for a law firm next week
it's actually my first regular job so I hope to adjust well in the workforce
Axerith
Working on electrical systems of F/A-18 Super Hornets :3
acidtreat101
I work in the stores at Disneyland in Anaheim, CA. Well specifically I work at the California Adventure Park. I've worked in the new Carsland and that's really fun. I meet a lot of people who come to visit from across the globe, including lots of cute Japanese girls which always make my day awesome when I meet them!
I just started seasonal work as Event Staff at Lambeau Field, but that's all I can seem to find that actually hires me right now.

I put in a bid for extra security hours, but we'll have to see how that works out.

I was supposed to be studying Respiratory Therapy right now, but got wait listed until 2013,
so I'll just find a year-long medical major, then I'll jump back to taking Respiratory Therapy
when I am actually accepted to program, not on the wait-list only status. Also, a bit of a non-sequitur,
but apparently the lead singer of Slayer was a Respiratory Therapist when the band formed,
he paid for most of the travel expenses for the first tours and funding for the debut "Show No Mercy,"
with that money. Quite ironic considering the act's subject matter.