Turn it on making sure I don't get water on me, wait until it's hot,then get into the shower as in exemple 1 ..
i take cold showers...HARDCORE. XD
ThePinkRanger
I typically wait outside of the shower until its warm enough. While wearing a Stormtrooper helmet.
-strip

-turn on the radio

-wait butt naked until the water feels okay

-jump in
I like sitting down in the shower in the emergency position with my clothes on and pretending I am in a submarine that's been hit.
Bottom left xD And yes, I brush my teeth in the shower but only if I'm showering in the morning. If not, at night~
savorysack
I like to water board myself in the shower.
I just wait outside the shower naked until I think the temperature's decent xD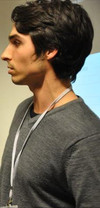 That's what I'm talkin' about.
Turn the lower part on to hot, step in, slam myself against the wall, and then turn the shower head on.