Hyperion-XIC
I admit I'm bias but I own and love my
Sharp Eagle
(1). I swear I'm not making up that up. Its a cross of a Beagle and Shar-Pei. Anyway she is a great dog and hopefully I'll be able to get another one soon. But I'm also fond of the
Pembroke Welsh Corgi
(2) thanks to Cowboy Bebop.
(1)
(2)
HcM_DrManhattan
wrote
:
Three Dog from Fallout 3
DogMeat from Fallout 3.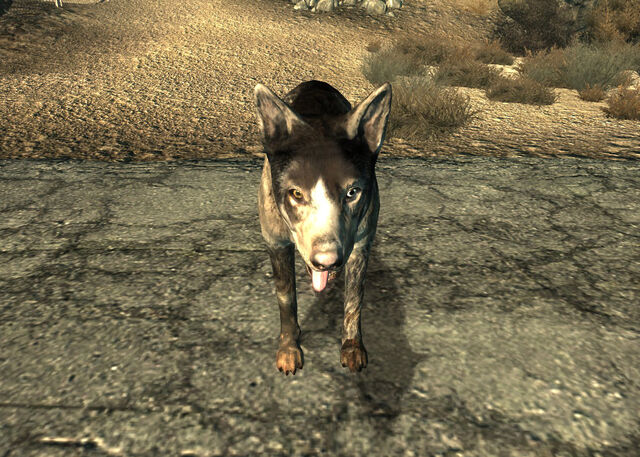 Pitbull.
Strong- They run 5 miles with me and still keep going.
and they never give up, I love that about them.
Husky
Spoiler Alert! Click to show or hide
huskys, i just love their fur
What we have:
Pembroke Corgi
What I want:
Great Dane
I don't have a favorite breed because I don't really like dogs.
They are funny looking.
Hyperion-XIC
wrote
:
I wish I cold have a Husky but I don't have enough acres or live in a suitable climate to have one.
That's not a problem for me, the problem is that my parents don't let me have one xD
My 4yr old husky/wolf hybrid
ChuChuLain
Wire Headed Fox Terrier, there is never a dull moment with one around.
Thats just a straight husky. You my friend got duped. So many places advertise fake wolf hybrids. Won't be surprised if they said he was part timber, or mackenzie or arctic wolf. I know of only a handful of legit breeders, and let me tell you blue eyes never comes up. Light ambers, yellows, and greens are the only thing that appears in any wolf cross. Being a 3 and 4 generations or more removed from a wolf parent makes it too dilute to express any wolf traits, which is when you see blue eyes, noticeable patterns as puppies, and snow nose. Honestly look at a picture of any husky and tell me your dog looks different, I bet he even curls his tail.

As for the other person claiming they have a wolf cross if it is indeed a real one (no pictures make the claim very weak), you should not make claims that they are friendly and manageable. Many crosses have a high fear of strangers, require intense socialization, and do not display the temeperment you are claiming.

Also wolf crosses are also highly illegal in many states, cities, and counties, so before anyone rushes out to get one please be aware of that. Also due to issues with the rabies vaccine not being authorized for the use of wolf dogs, be careful about telling everyone, because if your dog bites, it gets put down, no exception.