I dare you to explore the internet for any other hobby that has a substantial following, and you will find just as much weirdness and obscurity.

Model train guys
Political enthusiasts
Wine/beer afficionados
Anybody who listens to Danzig
Historical reenactors
Armchair generals... *shudder*
Cat/dog lovers that take it a bit far...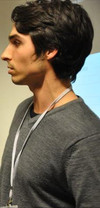 Oh man, these discussions can get heated.
Serious business.
not really , only obsessive people act weird
dokudokugwo
You are now entering the no spin zone...
Who decides what is weird? society? what is weird one day is cool the next. some of it is trend, some of it is acceptance. People fear what they do not understand. Am I weird? probably. But is there really a normal? i doubt it. Do I like anime? HELL YES!!!
Dlaxrain
I'm a little social awkward, but have friends and play varsity sports, etc. I didn't become socially awkward through anime, but before I got into anime I was just a military kid who didn't make much friends due to being different cuz I lived around the world. I've met many "otaku" who acted very weird. But I have friends who are cool and popular that are anime freaks. So the stereotype is BS.
hickey1992
Seems like the tc is just a troll.
After flicking through this thread it seems that no matter how many of us answer the question he will just continue to make comments on the stereotype that we are all weird losers.
To hell with it I would rather watch a tonn of anime than be within a mile of reality tv.
hickey1992
Also the fact that the tc called this thread "Are most anime fans weird" means that he probably already holds that idea himself and simply wishes to see how much hate he can get from an anime forum.
ShoujoScarfye
I joined an anime club. Most of the people I met in there were weird. Obsessive weird and crazy. Not joking. I quit because they scared me so much. But I have quite a few friends who like anime who are perfectly normal and actually really cool. So I guess the anime crowd is half and half
There are weird people who watch anime, and there are weird people who don't watch anime, there is always weird people.
well if you're not a fan of anime, you might think that they are..
but if you're an otaku yourself then.. why should it matter :)))
allierose
yesterday i saw a cat named akuma and told everyone about the meaning and d.gray-man, my favorite anime and i was told that im weird...
There's a club at my school dedicated to watching anime. I walked in by chance one day and have decided to never go back again. Yes, there's alot of wierd anime fans. Then again there's alot of normal fans. It's the obsessive ones that I think start to be viewed as wierd.
Well, these weird ones are always more... how to say it... visible? At first, people told me that only kids watch anime, but now it's okay and everybody is cool with it. I watch anime with my parents, some of my friends like anime too and they are normal, happy people.
I can be a bit shy, but not antisocial. I have many friends. If you like something, you shoudn't hide it. It's part of you. If you are cool person then nobody will think you are weird... Unless your friends are fake.