What's your trick?


(thx for the help do3ob)


By reporting the other thread.
i watch movies or rp or something
wear a weird hat. my mind usually is "cant give off the freak vibe too strongly." put on my hat and it's "they already know they'll come at their own risk." alcohol also makes me not care what I say or what happened in the immediate past, but gave that up.
Um.
I dunno.
I do my makeup.
Sketch, listen to Music, Tumblr, or play No More Heroes
crevallejack
I walk outside. I look up at the blue sky and the clouds. I listen for the sounds of birds, insects, and nature. It reminds me that we live in a beautiful world and that this beauty is always going on around me, even if my own life seems to suck at the moment. I do this habitually when I leave work every day and this little ritual actually does help me not only feel better, but it helps me turn off my "work self" and turn on my "real self."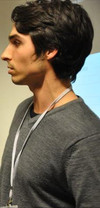 Listen to "Everyday" - Buddy Holly
Drink
Roll
Smoke
Drive
Sleep
Chat
Rage