I let others make my mood. Not like people can :|.. shit, need to find a new way to make me happy. tsk-
ranting to my friends
... crying
spending time with family
sleep

actually, I'm almost always in a bad mood.
I blast my favorite songs and sing along loudly and sometimes offkey.
The usual stuff, really. Things like running around, practising rugby, listening to some awesome music, playing some video games or reading a book. There's a lot of choice.
a silent scream with clenched fingers, etc.
It helps get rid of anger that has been accumulating
Depends on people I'm around with.
crazyfirefly
-Read
-Music
-Weed
-Masturbate
-Find someone else more miserable
watch shit on youtube ..

pop in a funny movie.. sleep?
tofukins
Eat ice cream. I'm not too sure about you but I find that ice cream solves everything.

Otherwise things I tend to do is:
-Sleep
-Watch anime
-Watch tv
-Watch cat videos on youtube
-Play with my kitties
-Roll around in bed.
justinitsu
Smoke a bowl, go climbing, work out.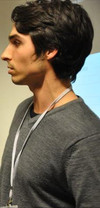 I watch one of the movies I have from my collection. Usually an uplifting or inspirational movie.

Last night I re-watched "Toto the Hero" and it just really put me in a very positive and cheerful mood afterwards.
I listen to music. Preferably power metal.
Listen to music. Or think about something cheerful. Or annoy people.
Exercise, release of endorphins