All Legend of Zelda games
And all Tales of games (except tales of vesperia its already a movie)
i wish jak and daxter was a movie just hope they would follow the intro of the game much. (really liked samus"s speach). also the idea of portal movie sounds preaty epic. as long as they would "include" the cake!
I have ALWAYS wanted a live action Bio-shock movie! I find the story so fascinating but cant really stand to play the game.

Others that I would be interested in:
Zelda (either)
Kingdom Hearts (as an anime)
Resistance; Fall of man (as a live action)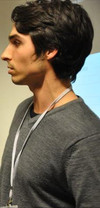 That was one badass trailer, I got really pumped up.
Loved that it used scenes from a lot of varied sci-fi movies that added to the feel, they used just the right parts to make it seem like it came from the Mass Effect Universe.
I'd personally prefer a male Shepard, just make him a bit less "boring." I wouldn't mind them having a female Shepard though, or creating a new crew member with basically her personality.
The Cutscene trilogy a.k.a. Xenosaga.

You could rip out all the cutscenes from the games and repackage the whole thing as a movie. At least a series. We already got an anime adaptation--why stop there? (They only adapted the first game, though, and it wasn't entirely faithful--one glorified redshirt from early in the game survived in the anime.)

The Elder Scrolls series could stand to get an anime adaptation, too. We got one with Halo. At least expand on a bunch of stuff we never see in the games: The world outside Tamriel, the Ayleids, Alessia's rebellion, the empire of Reman Cyrodiil, the Akaviri Potentate, the creation of Nirn, the planes of Oblivion--everything outside the games. Not once has Bethesda ever shown us what Akavir, Yokuda, or other lands beyond Tamriel are like; it's the least they could do. Do things the same way as Halo Legends--give us a compilation of shorts focusing on different stuff.

The Mana series: If we get a movie of it, we better get Seiken Densetsu 3 a.k.a. Secret of Mana 2 stateside! Why the hell didn't Square give us that game when it was new? Are we American gamers not good enough for it? Sure, there's fan translations, but I'd at least like the option of an official release, even if it's a Steam/PSN/XBL release alongside a Mana movie. Adapting SoM 1-2...if you remember those games, CONGRATULATIONS! YOU HAD A CHILDHOOD!
I would love to see a infamous movie
All the ones that have already been said I'd love to be able to see as a movie. A WarCraft would be nice, although that's already being planned, and I'd love to see L.A Noire, Heavy Rain and quite possibly a Grand Theft Auto?
Spoiler Alert! Click to show or hide
THIS is genius... Dead space and minecraft LOL.
Queen Moderator
LainZero
Tales of [Symp, Graces, V, X, etc]
&&&&
Fallout
!!!!!
Axerith
Remake of Doom. The only good part was the first person mode blowin shit up with a shotgun.
There are moves of the Tales series. Even animations. c: Symphonia's a big one, not sure about Graces!
Queen Moderator
LainZero
xoxo_akatsuki_xoxo
wrote
:
There are moves of the Tales series. Even animations. c: Symphonia's a big one, not sure about Graces!
O_O!!!! REALLY? I've been playing since FOREVER, HOW did I not know this?!
I must go to the Google at once!!!
macx258
What? No love for Blazblue? That would be an amazing movie!
Star Fox or Metal Gear Solid