pizza,ramen,fried chicken,burritos,hamburgers
Ramen. I would be better off eating rice but ramen is quicker to cook. Other than that, apples, beans, and eggs.
Vegan "cheesy" potato casseroles, and pomegranate.
OOOOHHHH, and vegan pizza and burritos.

NOM.

I have to be honest, but I just can't stay away from rice.
Yeah, I somehow forgot rice. I eat it nearly everyday.
Some fresh sushi/nigiri/sashimi, I can't resist.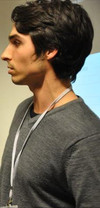 Recently I haven't been able to go without Hi-Chews. Most addicting candy ever.
Pasta, pancit, buffalo wings & I guess that's about it.
BUBBLEEEEE TEEEEEAAAAAAAAAAAAAAAAAAAAA <3333333