I'm Currently with my Dream Guy XD
Spoiler Alert! Click to show or hide
Lesbians are so cute.
My kind of girl personality wize is the hot headed blunt honest respects herself and who isn't afraid to speak her mind and kick some ass when needed and when we are alone is kind hearted and someone i could have a heart to heart conversation with and most of all really mean it when she says she loves me. physical traits i tend to be more attracted to slim petite wears glasses short hair (not really short but about shoulder length) and her eyes i like a girl with eyes i could get lost in. sadly i don't think my dream girl exist x.x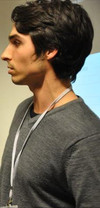 An awesome gal who's well-rounded in many different areas.
Above-average in looks, intelligence, athleticism, morality, etc.
That's about where I'll stop...wouldn't want to turn this thread into Rated-R.
Someone cute and ASIAN. I really like boys with chinki eyes!
Koreans are soo HOT<3
Tim_The_Enchanter
personality of Zooey Deshanelle and the body of Olivia Wilde
penper101
someone really funny and nice!
a girl with green eyes, black hair, and that loves anime. As well as somebody mentioned before, if she could actually write and draw manga, that would be amazing!
I'm not a picky person by any means, I don't have an idea for a dream girl, I will let someone come to me and prove they are a dream girl
Oliviamayhem
hmmm...mentally, I like a guy who is an imdepentant thinker, knows who he is and can spell better than me, politically opinionated, but not a know it all, likes to learn and share said knowledge and can appreciate science, history and art. Emotionally, I want a guy who doesn't ex-girlfriend bash, has self confidence on the verge of cockiness and wants to nurture his partner's heart, is encouraging, and is willing to listen to my complaints but doesn't try to fix my problems for me. Spiritually, I want a fellow who is open minded toward all religions and isn't too shocked by my dormant solitaire witchy ways. Physical attributes, although important, isn't something i can define in terms of what attracts me. I guess strong and capable. A guys just gotta have that "thing". But this is where I do not bend: he must ride bikes! (or be open to it) and also he's gotta get my sense of humor, cuz I'm a jokester. Fiscally, the man gotsta have ambition and be self sufficient at least. A car would be cool. tee hee.....vrrrrrroooom! Musically I want a guy who is willing to listen to my eclectic taste and hopefully turn me on to some cool sound waves. Also I like attention, loath jealosy and don't have time for naysayers. In terms of the adult stuff, I like a guy with a healthy "appetite" who is open to whatever and not too serious, boring Sidney, boring. In closing I want a partner who is patient, not perfect and is not afraid of life.
Honestly.
If I fall in love with them.
They're perfect.
Preferably alive, it's fine if they aren't, though.