He's a cute midget who acts macho.
emokey
-chemicalgirl-x-
wrote
:
A guy who loves me for who I am~!!
I support this statement
They are all in the animes. Psssh, wish they exist.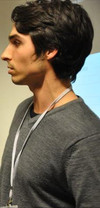 This will probably get a few groans but physically...

Megan Fox would be smoking.

As for the attitude, don't care much for it, but there's no denying she's a looker.
In my dreams, where he'll stay.
BananaPieLord is perfection C:
Well the obvious "Dream " for me would just be a girl who likes what I like and understands me for who i am.Since that will never happen,That's why I view it as a dream.
saksiss
-About 150-170 cm (I'm not good at measuring inches, and I'm 180 cm),
-brown hair
-blue eyes
-weighs about 55kg
-Very friendly
-Accepts me for who I am, despite my flaws
-Intelligent (not so much that she talks down to me)
-Sense of humour
-HOPEFULLY likes anime..
-Non smoker,drinker, full of tattoos or piercings.

Perfect people do not exist, but your mind is able to fold reality to make someone look perfect - or was it related to hormones?
But basically I would wish for a girl that is the same as me on the inside and the opposite on the outside (meaning: beautiful)
a girl with enough willpower to withstand my fart.