moonhawk81
Actually, I think both of my zodiac signs--Virgo (Western) and Rooster (Eastern)--have proven quite accurately descriptive.
~ o,..,o ~ Yes, this vampy is a scorpio and i am exactly as it says i should be. As for the eastern sign of dog, i seem to follow that pretty well too.
In some way, yes. But in others no. But yeah, overall it kind of does represent me :L.
bossknows
yep im so matched to my sign its scary and for eastern sign im a pretty good match ther aswell

[scorpio] and [dragon]
Virgo is mine and i'd have to say it's pretty accurate
I am a Cancer.

I believe my zodiac does truly represent me. In essence, the Cancer is an emotional, caring, defensive, protective, possessive, bubbly, depressive character. Pretty much a bundle of random emotions but in the core we have our roots, and are driven by our moral sides - which is what makes us loyal and clingy and slightly traditional. This definitely describes me.

I think it was the OP that said Cancer was closed off emotionally - I think you have interpreted this slightly wrong, it is said that Cancer bottles their emotions - not that we are not in touch with our emotions. And that is something I also very much do. On the outside I seem like I am very stable and unaffected, however inside there is a whole lot of overwhelming volcano of feelings (I suppose that is why we are represented by the crab with the tough outer shell and the mushy insides). I think that is because of our defensive sides, although truly we are very vulnerable and sensitive.

That being said, I have noticed Cancer guys are slightly different. I have noticed they don't lash out after things have been bottling inside like mostly the Cancer girls I have known did. They still get hurt but in my experience they haven't exploded in the same way. I believe that on the girls part, it is due to the contribution of our (wonderful) hormones.

I am also a dog in the chinese zodiac and that description has also been true to me.
I'm a Taurus/Sheep. I guess in some ways the zodiac is accurate. Then again, the things described there tend to be broad enough to apply to everyone at least a little.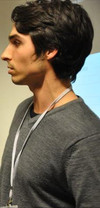 I'm an Aquarius, and most of the descriptions written are pretty spot on.


tigerwolf29
I'm a Sagittarius and from what I saw, the descriptions were pretty accurate.
Aries and Tiger...
Yeah beautiful.. arrogant and majestic.. I think i was blessed with my Zodiac signs.
It was mainly wrong, the only thing it got right was Independence.
Astrology is nonsense. All of the signs have traits that people want to believe they have so they try and believe in them.
i dont feel that conservative as my zodiac sign