meygaera
wrote
:
AHTL
wrote
:
For some reason I think TheAncientOne should just stay as he is. It would somehow feel wrong to have him as a moderator, though of course if he applied to become one I would be all for it.
QUICKLY MY BRETHREN, GATHER THE ACOLYTES, WE MUST
THE ANCIENT ONE
*Trips on hooded robes and knocks over scented candle... sets temple on fire*
Dude mah bad...
Yea you did set the temple on fire, I forgot to add the most important word..."SUMMON"

all your fault.
Best Advisor: Winterfells

The rest is pretty much covered for me. I'd nominate some of my RP buds for superlatives based on their posts, but there'd be too many ties.
I think I'd be "Most Likely to Lace a Compliment With Sarcasm, Dropkick You, Kiss You, Then Judo-Throw You Into a Wall......"
That's only the beginning of my sarcastic randomness, but I digress~ x)
Oh now it's on, now it's a nomination for who I'd most like to perform a double-dutch rudder with, while looking into their eyes, all while "Gangnam Style" is loop, playing in the background.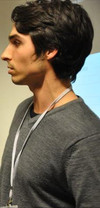 *sniff
I would tell you that you are sorely mistaken in me, and you should not trust what I have to say, but then that would be good advice so...self-fulfilled prophecy dangnabit.
Most likely to embarass himself while drunk:....
That would be kind of cool. A Crunchyroll yearbook.
stickerclub
sosarx voted Crunchroll gakuen's best Naruto coplayer.