Are you voting for Romney or Obama?
I'm a independent and due to Obama's recent weakness in dealing with countries that don't like us soo much...and Obama's false dream of us one day singing and holding hands. at this point I'd pick the republican candidate, BUT of all possible candidates MITT ROMNEY is a possible mistake waiting to happen. So I don't know exactly
oh and I must say that i'm not for ron paul either
shinagamipunch
Just got my absentee ballot...there are other options for president on the ballot you know. Not likely to win of course, but voting for the lesser of 2 evils is still voting for evil!
savorysack
We need to change our electoral system. With as many people that we have in this country we should be able to choose from more than 2, legitimate, people.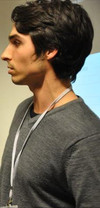 I'm not voting for either. Neither will be good presidents in my eyes.

My only hope was for Ron Paul to win the Republican nomination but since there was a minuscule chance and it didn't end up happening, I've ceased to have any fucks left.
bemused_Bohemian
As usual, another disenfranchised voter (Michelle Bachmann, Herman Cain) by both parties voting for the lesser of the 2 evils since 1972.....2012 hint: it's not the man currently holding the Presidential office or the old fool masquerading as V-P.

I've got posts over in Extended Discussions re where I stood in the past and which extant parties I chose instead of DNC or RNC since 1976. No point in repeating that here.
Spoiler Alert! Click to show or hide
Allonan
I hate both parties... and if you haven't figured out by now neither one gives a shit about the rest of the people in the world. They only care about us when it comes to election year and still really only care about the people that donate money to their cause in some way or another. Corporations, celebs, etc. the people that are able to advertise for them... I'm so sick of all the news channels being caught contradicting themselves as well as the both candidates saying shit that is opposite what they were saying just months prior. They are treating us like idiots because they know that no matter what they say we have to pick one of them, and therefor they stay in power. i could go all day with this crap but the guy above said it "who cares". I tell you what would cause a huge media craze that would be if everyone who feels so discouraged when it comes to this time of year they would vote for the independent candidate. don't be scared they wouldn't allow him to win because our vote doesn't matter the electoral vote is what matters and they are all made up of dems and reps, but would be our chance to voice how we feel about both parties and their lies.
Allonan
opps saw the "guy" is actually a female sorry didn't look at that till after i sent it.
Obama, mostly because of the plans he supports for the country. Watching PolitcsNation on CNN(?) discuss that recording of Romney made me further prove not to trust him.
IS THIS FORUM FOR REAL everybody says no too both. Comeon OBAMA is giving free health care to people who cant afford it. and hes raising taxes on those rich idiots with to much money and he killed that idiot that was going to bomb usa,osama . I mean really people hes one of us he a father protecting his children and mitt is only protecting the child with the more talent and gifts. Im surprised he gets votes anywere besides beverly hills.
go obamA
Tarya
Wow, so a handful of you all posting are going to vote for an independent that has no chance of winning - you evidently don't like Obama, but you aren't willing to vote for the one candidate that can get him out of office? So in essence, you are voting for Obama.

I will vote for Romney.
I strongly agree with trying to make our country more energy independent and not importing oil from other countries - we need to use and drill our own oil for this country. I agree with supporting small and large businesses alike - we need more jobs, and raising taxes on anyone is not going to help this.
We need to get rid of Obamacare - the only people who would be getting free healthcare are those our tax dollars are already supporting with food stamps, wic checks, and unemployment. The middle class that can not currently afford healthcare and are going to be made to get it are the ones that will suffer - there are over 6 million middle class families right now without healthcare that will not qualify for free healthcare under Obamacare; they will have to pay a $2000 uninsured tax by 2014 if they do not go out and buy healthcare. If they can't afford the healthcare to begin with, how is this helping?
Making money, or having money is NOT a crime. I don't know why people seem opposed to Romney just because he was a good businessman and made his money. That is what all Americans dream of, and we are one of the only countries where you can pursue that dream.
We need to overhaul Medicare. I don't know why people are afraid of this subject. We have to do it - the longer we wait, the worse it will be (sort of like pulling a band-aid off slowly). The country can't handle the increasing fiscal burden - people are living longer which is fantastic, but also leads to more people on medicare as they retire. I don't know if vouchers are the answer to this problem, but I would at least vote for someone who wants to try and tackle it head-on than to sweep the problem under the rug and let someone else deal with it.

Okay getting off of my soapbox.