Chopsuey9444
Why slurp out loud? It's too messy.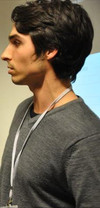 It is appropriate for a man to only slurp on one occasion:

Cunnilingus.
By slurping your noodles you can eat them while they're hottest and most flavoursome because you're bringing in a lot of air with the noodles as you slurp. Also when it's done properly you prevent getting noodle whiplash and getting your clothing dirty.
I guess it's customary, but I put my preferences above customs because I'm stubborn and foolish like that.

When I eat ramen, I use a spoon and I like to get noodles with some broth at the same time, so I don't slurp.

Then again, Im the type of person who eats pizza with a fork and knife when possible because I don't want to dirty my hands. And I use way more napkins than I need.
IDC where you are slurping your noodles.

As long as you're not next to me.
piggy
I means you like the noodles. It's basic noodle etiquette.
All of you should take a look at this video =]
https://www.youtube.com/watch?v=IysLNcI1QlE
He tells you how to do it the
REAL
way
Truthfully, I hate it when my dad slurps while he is eating noodles. There is so much exaggeration, and it's so freaking loud and obnoxious. I'll probably cringe if I were in a noodle shop in Japan
GayAsianBoy
In most Asian countries that eat noodles, it's ok to slurp them up, whereas in Western countries it would be considered ill-mannered.

I don't mind people slurping their noodles, but I don't like it when it's done too loud... it sounds disgusting.

I just don't like hearing sound from people eating food in general, not just noodles. People need to chew with their mouth closed.
sometimes i do slurp when i eat noodles ( only when i'm alone though!!) and for some reasons i think it taste better when i do that!
desh92
Always slurp noodles <.< Unless it's spicy noodles. I get the broth in my eye
Lol i feel hungry right now !