Oh thats just nasty. *cleveland brown voice*

what.....disturbing, but still.....its pretty cool to sleep all day and get paid if you ask me...
dazedandconfuzed
wrote
:
perhaps, but typical japanese...haha
How dare you
I actually would like to try this once in my life when i'm in Japan, won't kill me.
deadpanditto
Somebody did a followup on that initial reports. It's more of a marketing scam than anything else. But then, that really shouldn't be a surprise.
http://japanvisitor.blogspot.com/2012/10/soineya-cuddle-cafe-akihabara_12.html
M1keymike1
Wait, why the hell do I have to pay more to give a foot massage than to GET one? Bitch, you should be paying me!

But seriously, DERP.
I don't even like cuddling with people I know.
alphawolfmax
To be honest, at first I was like weird. After thinking about it its kinda an interesting concept. There was this whole study done on the human touch and its effects. One of them was just being touched by someone when you are sick makes you heal faster. This is often dramatized in many movies and anime, but there is a bit of truth to it. Also when making contact with someone, it makes you feel like you are spending more time with them than you actually are. Im not sure there reason behind it, but its true. I tested it out when i was with a group of friends, we all spent the same amount of time together but I made a lot of contact with one of my friends, sure enough I felt as if I spent the whole time with pretty much just them. A non related study was that waiters and waitresses who at some point touch the person paying for the food, tend to get a higher tip. Also when I have a bad day sometimes, random people I'm semi acquainted with will give me a hug and I will feel better. Well the point of this ramble was that the idea is actually kinda interesting and may actually prove to be something worthwhile (though judging from the building and the overall strangeness of the business that was described in the follow up article, this particular shop will not be the start of the change, maybe just the source of herpes).
DarkPrinceVegeta
There's a lot of sad ppl in this world and some just need a hug /o/! and for a girl to change cloths in front of them... Wait What!
Fumetsu-sama
But what if the girl snores in her sleep? You just flushed your money down the draiiiin... haha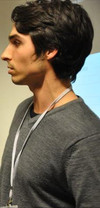 Fumetsu-sama
wrote
:
But what if the girl snores in her sleep? You just flushed your money down the draiiiin... haha
Some guys find girls who snore cute. Especially when they vehemently deny it. XD