"Before you interrupted me." -Obama
._. lmfao
I emptied my bottle on principle when obama started ranting about lincoln. Didn't catch the whole thing but I didn't hear one mention of the wars or the drone strikes. Way to guys.

They need to do one of these with no time limits, Although politicians always speak on a timeframe so that they can stall for an out if they need to. Still, just one debate with no time limit, let them go at it all night.
Obama fumbled this one -_-. Surprised he didn't say 47% at least once in 1 1/2 hrs. Even more surprised when he didn't rip Romney apart when he threw out so many lies on the table.
foxybrownjr
im sorry how many people was mad about sesame street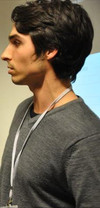 Presidents aren't what they used to be.


netdisorder
Yeah I have to hand it to Romney on this one. I especially liked when he talked about how you have to "grow the economy first", and how increasing taxes doesn't do that.
Picturesque
Lol u forgot to say drink if Romney calls Obama "Bro" xD.
Damn, I was so certain watching it would kill my brain cells. I should've played this game lol
America will end up voting for the most retarded one anyway.