Jsybird2532
wrote
:
Hintkin
wrote
:
Spoiler Alert! Click to show or hide
Maybe it all depends in the offer.. Is that dorm you were living inside the school?
Yes, it was. I did go to a VERY large school though, so sometimes it still took a while to walk across campus to get to class.
Oh I see.. You must be studying in a private school..
Oh.. Sorry abou that
mamertine
I've been out of college for a few years, but when I was in school living in the dorms was awesome. I really think people who commute to school are missing out on a large part of the college experience. You'll make friends at your new university almost instantly, stuff is always going on, you can easily form study groups with other residents in your classes.

Safety is dependent upon the school. Every school that I'm aware of makes significant efforts to keep the residents safe. Visit the school, if the dorm doesn't feel safe to you won't want to live there.
Spoiler Alert! Click to show or hide
That's great!
mamertine
If you want to live on campus but aren't able to due to financial reasons make sure you talk with the university's financial aid office and see what they can do.

Good Luck.

No, I don't want to. I like my pitch black hole in the basement isolated from everyone.
DudeINeedSleep
Dorming is good for the experience and meeting people. When you commute it is harder to be involved in school stuff outside of classes.
I'd only live with my sister.
Never lived in one. I think I would kill myself if I were stuffed into such a small space with so many people all the time.

I'd only say, watch out you don't get sick. Showers especially are breeding grounds for germs; I know a guy who got a nasty infection in his foot while in a college dorm, and they say he probably got it from the shower floor.

Of course, if you get your own shower and bathroom, it's probably not too bad.
Blah nobody wants to live with a nagging drama maker.
It's okay to live in a dorm. I never did cause I always too expensive. I stay at a dorm for a week with a buddy of mine and it's pretty cool.
on friday nights everyone goes out and party , drunk teens walk everywhere. you will see some people trying to pick up drunk females that are walking. some ppl dont even live at the stupid school and they go to the college on weekends to party.

the food was better then high school food
umm. other then that it's pretty quiet during the week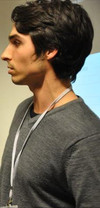 During college I hung out with friends in their dorms, but I didn't live in university housing myself. Like others have pointed out, it's usually overpriced and there's not very much flexibility in terms of living arrangements.

It was nice for socializing, I met a lot of people since it was basically clusters of apartments.

I wouldn't want to share communal showers and toilets though. I can handle roommates if we're sleeping in separate rooms, but having a roommate sleep in the same room as you, I just wouldn't be able to take. I like my privacy and time to myself.