Smoke a bowl of apple kush. It will put you right out after making you extremely hungry.
I know this sounds stupid, but I find that the good old method of counting sheep works pretty well for me. If it doesn't put me right to sleep, it definitely makes me feel more tired than when I started. There's just something about seeing sheep jumping over a fence that's relaxing. Try it sometime - it might not work for you, but it's certainly worth a shot.
What Savorysack said!
And you might want to try to read a bit until your eyes get droopy-like and...poomph goes your head on the pillow~!
Hopefully
you could always masturbate.......
Take a hot bath for at least half an hour (make sure you brush your teeth beforehand) and when you're done just collapse onto your bed. Feels nice enough to make me fall asleep most of the time.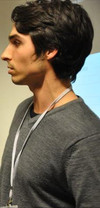 I like to sleep with the window open, when it's cold it helps me fall asleep.
when you are not asleep, just dont go to sleep..
Tiekonduekid
Do what I do .... Force a dream .... Close your eyes and just be whatever you wanna be and do what ever ... Tonight the army will come after me because I'm the worlds best assassin oh and it will be at school so I can have people see me drenched in blood and with all my awesomeness
The best thing is to be moderately tired before going to sleep. What you basically have to do is NOT to be resting your ass on flat surface before bedtime. At least, remain physically standing about one to two hours before bedtime. Once you find yourself in bed and cannot sleep, it is very VERY difficult to sleep as you already know.
Try to empty your mind. Don't open your eyes. Just relax as much as you can while still remaining kind of still. Drink tea or warm milk before going to bed. Take a warm shower before going to bed. Make sure you are tired enough to fall asleep. Some advice on fixing a messed up sleeping habit:

Wake up earlier one day and sleep earlier that night so that you can wake up early everyday. For example:
- Sleep at 2am.
- Woke at 7am.
- Drank coffee to help stay awake.
- Sleep at 11pm.
- Wake at 7am.
- Repeat to keep healthy sleep habit.
Well, I find it easier to sleep in pitch black with absolutely nonnoise. But incase you need noise play some soothing mellow music. Also, take a mental note of the foods and drinks you are having, it it doesn't feel like it, but some foods and drink such as coffee make yourbmind continuously think which makes it hard to sleep.

There is also something else my mate taught me when I was having trouble, when you close your eyes, keep your mind thinking about thebblack, if your mind starts to wander about other things, go back to thinking and concentrating on the darkness. I use that method to fall asleep quite often, a busy mind will take forever to go to sleep.


On a side note, I'm using my phone and I make a lot of mistakes, please dismiss them.
Hehaho1830
could take a melatonin vitamin supplement(check with doc. but should be okay), also try to fall asleep at the same time every night as well as waking up at the same time everyday.
This method is ZERO fun, but ultimately helps in the long run.

Go to bed at the SAME TIME every single night, 7 days a week, and get up at the SAME TIME every mornning. The ZERO fun part comes in when you want to have a late night when you catch a second wind, or want to sleep in.

It's also helpful to follow a simliar routine each night and avoid your computer or phone during that routine. You might read a book (an actual PAPER book) each night to establish a routine.