You can spell culinary, but not Japanese or cuisine. :/

On topic, I'm not a huge fan of much of the traditional foods from Japan, but there are some. Miso is good, as is raman. One interesting desert I've had, it isn't necessarily Japanese, but it's chilled sake (in a freezer) on top of an orange. It makes the orange less of a bitter sweet aftertaste, and it also gets rid of the flavor of alcohol in the sake. A sushi chef I knew served it to me once, was great.
Is that supposed to be your cat typing?

I just saved your face.
I'm not sure what Jaese crusine is. =/
i like miso soup
and my favourite dish is katsu don ! i have eaten this dish in a traditionnal japanese restaurant in paris, and it was really yummy
i try to cook some japanese sweet : the mochi is ok, the glutinous rice has a bit of a plain taste though, but the red bean saves the taste
i love all of the japanese food but my actuall favs are sushi egg rolls miso soup rice balls natto and basashi orange chicken sweet n sour chicken ramen udon and my fav candy is pocky sticks i can eat these foods every day
Picturesque
Oh my God, I love Japanese food...I could eat it every day. xD
I love Okonomiyaki, Takoyaki, Sushi, Sake sashimi, chicken teriyaki, ebi tempura... and a lot more. My favorite would be okonomiyaki though, both osaka and hiroshima styles. I know how to make osaka style okonomiyaki. I'd like to learn how to do hiroshima style one day. >.<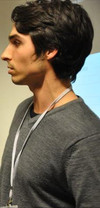 I love going to a Japanese sushi restaurant and ordering chirashi. Such a bowl of seafood goodness.
I've never actually had Japanese food that wasn't from a package. I would like to try it someday though. Sushi is really popular!

"Japaese crusine"
Japanese Cruising? Sounds fun!
Winterfells
wrote
:
I love going to a Japanese sushi restaurant and ordering chirashi. Such a bowl of seafood goodness.
Gaaahh, that picture is making me hungry
Miso soup! Sushi! Mochi! RAMEN! POCKY!
tbtalbot
Never had mochi. Like my tempura.
Sushi is my favorite international food. I've had tempura (even tempura sushi), and I find it okay, it not a bit oily at times. I've only had instant miso, and while it has fish stock, I've enjoyed it.

Pocky to me was rather underwhelming. I expected something more awesome.

Albeit made in Taiwan, I've had mochi (satoimo and goma), and I love those. Bad thing is, they're imported, expensive, and very hard to get here. So I enjoy that moderately. I like tea ever since I was a teenager, and green tea ice cream is awesome.