kangsuj92
wrote:
xtrennyy68
wrote:
johnsever
wrote:
I got this one in the funny pics tread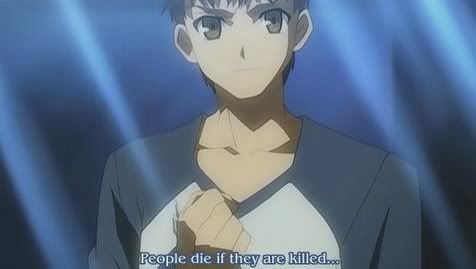 LOL people die if they are killed
LOL that seems like a mistranslation, but funny anyways. What anime is that? 8)
it's fate/stay night
omigod that cracked me up xD
alamigas
wrote:
kyasarin_06
wrote:
well....I think...this is...
kind of cute and funny....
Did you make this? It so funny, can you teach me how to? Thank you and sorry for the commotion.
no.. but the easiest way to make this is on photoshop.. duplicate, crop, and polish... and you're done.. do it on adobe photoshop portable version 8
YAGAMI ----> "IM A GAY" WTF your right dude
Lol When I read that Death Note joke i didnt realise Yagami - Imagay either.
kclyn15
wrote:
Original-rimi
wrote:
This is sooo taken from a forum but there aren't enough Deathnote jokes.!
This ones just BRILLIANT.!
Though I'd post the actual one...
And last of all,
My favorite.!
these are funny
LMFAOO "im a gay"
The title of Dragonball Z is mispunctuated-- it should really be Drag-On-Ball Z.

Q: Where does Kagome clean her clothes?
A: Inu-washa.

What does Princess Dejiko use to make pancakes?
A pan-yo!

Ai:knock knock

Mew: who's there

Ai walk away then turns to some one that was listening in to the joke

Ai:It's ding-dong ditch for people who don't get out very much.

Why are Ninjas called Ninjas?


....Because their Ninjas. :D

You know you watch too much anime when ...

... you understand the plot of Evangelion.

Your mom is so stupid, even Naruto doesn't believe it!

Your mom is so huge, that when when Miroku asked her to bear his child, he stopped and said "Oh, I'm sorry, you're already pregnant."


Q: How does Sesshoumaru like his eggs?
A: With Youkai

InuYasha was so bad Naruto couldn't BELIEVE IT!

Kakashi: Stand back. Only another Sharingan User can hope to win against him.
Itachi: Well, we shall see about that, will we not?
Kakashi: Where are we?!
Itachi: We are in the world of Tsukiyomi otherwise known as "A thousand years of pain!"
Guy: What's wrong Kakashi?!
Kakashi: Ugh...I feel so violated...

Lelouch: From this day forward, I shall make a new country separate from Britania! And I shall call it...the United States of Japan!
Okiro_Nake
wrote:
man, that sesshomaru one was mean
heres a bad one
ur so stupid, ur iq matches yachirus height
sorry it was corny
NARUTO JOKE

My cousin's forehead is so big and so hard that even sakura's super strength can't destroy it!!!
DEATH NOTE JOKE
L: Light can you say
Yagami
in Backwards.
Light:
Sure... IMAGAY?????....... I'm.... A...... Gay....?????

Light: WHAT THE!!!!

HOPE YOU LIKE IT!!!
irenemacias86
wrote:
abby-chan
wrote:
Hisoka
wrote:
What is the diference between Love and Naruto?
Naruto last forever
agreed.
so nice
haha tue true true--narutard??lol
why did L cross the road?
because light can't kill him
sorry bad joke
xtrennyy68
wrote:
Justin Timberlake: I'm bringing sexy back! Yeah!
Naruto: I'm bringing Sasuke back! Yeah!
Wow, this one was funny. -holds ribs-
wombo
wrote:
why did L cross the road?
because light can't kill him
sorry bad joke
But........(if you haven't seen the end of the series and you care)
Spoiler Alert! Click to show or hide
cuddles_snuggles
wrote:
niko1103
wrote:
im sure this was the main reason why orochimaru was kicked out in akatsuki.....
LOL
HAHAHA!!!!
THAT WAS FUNNY
hahahha, i would so be the one telling him he was