I got this from photobucket. It's not my own.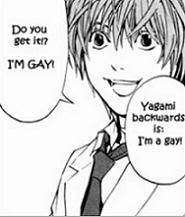 haruke
wrote
:
Safuranmodoki
wrote:
XDDDDDDD
Oh yeah, so me!

bhl88
Naruto:
I will not call Sasuke "Sasu-GAY" (from some pics).
Akatsuki is not the "Criminals of the Round Statue" group who stands in front of a statue to meet.
Orochimaru is not the substitute of Pedobear.
I will not show Hinata pictures of Naruto and Sasuke kissing.

Dragonball Z:
I will not use my scouter in front of the enemy, he's going to punch me before I yell, "IT'S OVER 9000"

Lucky Star:
I will not mention drills in front of Miyuki.
I will not wave the cookie to Misao like she's a pet.
I will not wave the Haruhi tickets in front of Konata, she's going to wag her tail.

Haruhi:
I will be cautious in meeting an exchange student or I will be involved with the identity of the student.
And she may kill me.
I will not give Haruhi coke. She's too hyper already.

Elfen Lied:
The vectors are for killing. Not for other uses. [like you know what]

Inuyasha:
I will not give Inuyasha cookies.