When it reaches the point where their reanimated corpses are actively trying to eat my face, can it really even be said that they're my friends or family anymore?

If it comes down to surviving or allowing misplaced sentimentality to put my life at risk, I'm gonna put a bullet in a zombie's brain without hesitation no matter whose face it's wearing.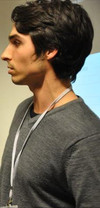 Emotionally, I'd probably be wrecked.

Pragmatically...yeah it'd be something I'd have to do, put them out of their misery. It's no use to let them suffer like that, and it'd only pose as a threat to your remaining friends and family.


EvilBunnyFluff
You're doing them a service by killing them instead of letting them be turned into zombie freaks.

Fight the dead.
Fear the living.
I think at that point you have to draw a clear distinction in your mind and really separate the most important questions of value, love and loyalty.

Those questions are: Can I keep them chained up in my basement like in Shaun of the Dead???

OR

Do I have a Barn and is my name Hershel Green???
No, I'd get someone to do it for me....then I'll return the favor.
in a heart beat no hesatastion
Yea i kinda have to or they will eat me
tofukins
I would. I mean there will definitely be psychological damage from killing off your family members but they are no longer 'human', no longer what you remember them to be, will not acknowledge who you are, probably will try to kill you.

Think of it from their point of view, if you were going to turn, would you want to die or roam free infecting others?

I guess it depends on your will to survive. I can see scenarios where people would let their families 'turn' them so in a why they'll be with them forever, as the walking dead.
Since every friend I've ever had has turned into a backstabber, I'd just smash the paste out of them. Probably the same if they were zombies.
Yep. Since they are no longer my relatives but "zombies".
veldruk
with out a second thought id do it, "C'est la vie" or such is life or lack there of, which would be my premise and this world is for the living.
Banned
You all are so tsundereee. :3
Id probably lock them all up in some place and let them rot there
Yeah, if they are trying to eat me, I'll do what I can to survive. I wouldn't enjoy it though
"I've been waiting for an excuse like this"

*pulls the trigger*