Do you guys work out a lot?? I myself try to be very active when possible to stay in shape.

this doesnt sound like it should go in the extended discussions section
I go everyday and everynigt
Yes, I need to stay in shape for my career and I have weights at home so no need to pay for a gym membership
IHav2Fart
I have a home gym, used to work out everyday after work... after a while because I am at home I work out like twice a week only now =(
RobCasillas
I work out Bi-Daily, I have a home Gym so its pretty easy. I have been to real gyms thou, maybe once every 3 months.
MillerTime45
I used to go to the gym but a buddy of mine suggested P90X. I definitely get more out of it than I ever did at the gym (even though it's a little more expensive right at the start).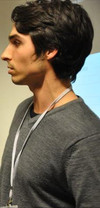 Every day or every other day.

I usually run and swim, and lift a little bit.
every day for 1 or 2 hours and twice every other day
I don't hit the gym much anymore since getting a treadmill and elliptical machine for my house. I exercise every day though because, with my eating habits, if I don't I put on weight fast.

Mostly just little things like carrying an 8 pound weight with me everywhere I go in the house or, as I am now, surf the internet while jogging on the treadmill.
gym membership for 100 for a whole years was well worth it
I at least hit the gym 4x a week; 1hr 30min. each session. 1hr of lifting (workout 1 or 2 muscle groups per session) 30min. of cardio (running,swimming, cycling, punching bag)
Stay fit people!
DustyNiner
P90X. Gyms are crowded, expensive, filled with a bunch of bro's who are moreso standing around flexing than actually working out... it just isn't worth the hassle to me. The initial investment is well worth the benefits.
Pretty much in the gym everyday... 3-10 hours "At the most" everyday lol!!
Sigh only because I work there...
My workouts are rough... Most times I work out 2-3 muscle groups a day.
That or i'm in for a 3-4 hour session of playing basketball.