Don't rely on school for learning. I want you to study outside of school. Defy your teachers by reading advanced books rather than her curriculum bullshit. Workout. And learn how to speak japanese. That would be cool. Ask for anime for every Christmas. Learn all you can about computers. Read more books. You never get the girl so stop trying. Tell mom to invest in google and amazon. Get a notepad. Write everything down because you have trouble with memory.
Advice I'd like to give to my younger self would be; to not fall in love over the internet with a guy named "Steve". That guy is bad news.
Hm probably one, you can tell your parents your real thoughts, its better if you do, even if you get punished for 2 weeks for it they will hopefully realize that they are messing up your life by doing what their doing, even if they don't at least its better than not trying at all.
Don't sit close to the tv and don't stare close at your handhelds. Glasses will be somewhat of a burden.
to suck up my shyness and be out going, and stop being and idiot, and be carefull there are people who are gonna hurt you even if you trust them


I would tell myself to not back side 180 flip of that 10 stairs.. most painful day of my life, oh and i would say to watch clannad sooner, thats the show that got me into anime lol
CalifCat
Don't ever take a risk for love again.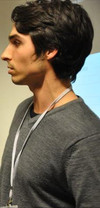 Don't ever wear shoes without socks.

Always carry some cash in your wallet; don't always rely on credit/debit cards.

Women who go out of their way to be nice or mean to you have ulterior motives. Steer clear from them.
I have tons to say to my younger self, but I doubt she'd listen.
Do more Breakdancing.
Punch that kid you really wanted to punch.
Don't drink too much alcohol.
Drink more water.
Spend money wisely.
Eat more fruit.


Kageru77
Lose the trumpet and trombone, and take up piano and guitar.
Don't give up your dream of becoming a professional hockey player. You've been playing every day since the age of four in the driveway, and just because you fell down a few times when you tried to skate doesn't mean you can't play. You just have to get up and try again. If you fall, try again. And eventually, you won't fall down any more. Practice makes perfect.


"Damn you stupid brat, tell her you like her....."
"Start reading Gray right now...."
"Always value your family the most"
"Do not eat that chicken-salad sandwich...."
"mix some sounds, call it Dubstep and become rich"
"Create Facebook and become (more) rich"
"Write 4 stupid books about shining gay vampires, an emo girl and some stupid giant smelly dogs... "
"Create an awesome website so people can upload videos to it and call it YouTube (immediately erase a video called "Baby")...."
"When a girl won't stop talking about marriage means she wants you to propose..."