mesomuffin
Is that even a question? L is my favorite :3

And Matt... Even though he only appeared for like one episode.... *cries*
bust04
Light
cause he can make eating chips epic!!!!
I Love His Weirdness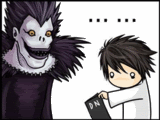 Oh L . . .
LIGHT AND L TIED AND FOREVER FIGHT FOR DOMINANCE IN MY MIND!!!!!!
L but i also Heart Misa Misa <3
L, he's so awesome and Ryuk. He's just too funny xD
L. C'mon. Who else is there?
Obviously Light. He's the amazing main character. Although he had become completely corrupted at the end. Light falling into corruption kept the show going at an interesting pace. You could see how mad he had become through the way they conveyed his eyes and other gestures. We must remember that he originally had good intentions at the start. I was so pissed that he died, evil shouldve won in this story. May the madman genius Light Rest in Peace.


zackdaniels
Misa followed closely by Teru Mikami! I mean really! Misa is just so damn awesome thats he survives to the end and Teru is so righteous that it is amazing!!!!