Kevin703
i just do not like Dub step i cant even consider it music but there are some good music out but most music today is generic
kakashi2k7
Yeah, music has declined it's because people are reinventing the wheel no one is original anymore. People take other people's ideas and put a spin on it and think it's theirs to claim, pathetic I say.
Srory were not old fucks like you people.
There's still great music being released today. In fact, 2012 has been one of the greater years for music in recent memory.
I fear that the people that are influencing music at these times are idiots, people like little wayne, nikki minaj, justin beiber, and yes also psy. I only say psy because people liked that ONE song because it looked funny, no one really bothered to look for the meaning behind his song. I dont really think that there were certain years that music was good because, in my opinion, there is still some decent music out there.
Its not that bad, I'll listen to some of the new music nowadays, only what suits me.
After all, its preference. While some people think today's music is better than the older music style, they have different musical tastes. I dont hate on people who dont like what I listen to or whatever.

Music used to be meaningful back then, now its the same content and repetitive phrases, or repeated verses. Radios love to play them over and over, but it gets old quick.
To be honest, I am a bit disturbed..
mattimortimore
YES!!!! I totally agree, "Music" that comes out now pisses me off so much! its complete and utter crap!!
I'm not disturbed. I'm outraged. And then I smoke weed and do other stuff and listen to trance. At times like that, all is right with the world.
i never listen to radio. the music is horrible. the music i listen to isn't on the radio. so yes, i am disturbed by that "music" on the radio.
I despise it!! I want real music back!! I want Rock N' Roll to be back!! I am tired of these talentless autotune shite! Pop stars can't write anything (worst of all, their songs have no meaning) or jam on the guitar, or play the drums like a madman! They rely on computer to do the work, they are gayass losers and not composer but decomposers in every way. And those who like them are big time faggots!

Thats why I listen to music from the 60s to the 80s and some 90s too. Classical rock is the best!

There is a myth.. in the distant future a band will come.. and resurrect real music and chop off these pop stars asses and wipe them from the face of the earth!
I am waiting for this moment to happen...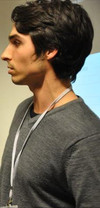 There has always been good music being made imo.