so i thought the veldt was just a great song.. but it turns ot the story is even better.. much worth the read!

"The Veldt" is a short story written by Ray Bradbury, one of the most imaginative writers of the 20th century, in 1950 about a family that lives in a house that does everything for them. It cooks, cleans and has a nursery for their children that allows them to imagine anything they want and the nursery creates it. The parents become concerned when the nursery is stuck on one virtual conception of an African veldt where they can see lions off in the distance eating the remains of what they assume is a Zebra or other animal. Wondering why their children have conjured up this scene they call a psychologist who tells them to leave the house. The children beg for one last visit to the nursery and the parents oblige. When they come to gather them, the children lock them in the nursery with the lions and the parents realize that what the lions were eating was them.

This story inspired Deadmau5 to create his latest track which he created the instrumentals for on his UStream, and then along came Chris James. As Deadmau5 said on his tumblr titled "United We Fail", "The electronic music community needs more people like Chris James, who i actually just randomly stumbled on via twitter, pretty insane." What Chris did is wrote his own lyrics, recorded his vocals, mixed it into the track from the UStream feed, and tweeted it back to Deadmau5, who said, "I was fucking nearly in tears. Not because i think he's the best singer in the world… but because HE FUCKING GOT IT. TOTALLY and COMPLETELY got it." Congratulations to Chris on showing how someone can use social media and some hard work to make it big.
Interesting, I learned something new today. The story was ... something different. And here I thought your username was created by you by the way.
Banned
A house that allows you to create anything with your mind? That implies that that house allows you to create your own universe or that house is capable of creating any sort reality/universe.
Pretty cool read, Good luck to him in the future!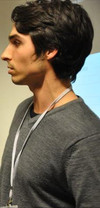 This is the only Veldt I care to know.
same, i thought this was going to be a gau tribute thread.
Winterfells
wrote
:
This is the only Veldt I care to know.
YES! YES! YES!
Tekrelious
http://www.youtube.com/watch?v=TEMYYi4F-sk
That was in my english book at school
I read this in my english class few days ago, had a quiz on it too. I find it boring because it's school work. :p
ispy12
Winterfells
wrote
:
This is the only Veldt I care to know.
nice
WOW, so creepy I read this two days ago.
The room is supposed to represent Television and how it entrances children. It was fitting for the time because TV was just introduced.
Also the title is called "The Veldt" in acronyms is T.V.
Coincidence!?