eos
I think if they were going to make any type of nerve gear it would be military before anything. As for gaming purpose its pretty distant.
So for the most part i think its pretty safe to say most of us want the nerve gear, but here is the question, in a game like SAO, would you prefer an animated style/graphics (like in the show) or have everything seem.... real for lack of better word?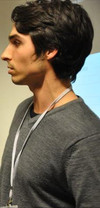 If you get caught in your college dorm room wearing that gaming helmet...don't expect to get laid.
shamarr496
wouldnt mind being cut off from the real world atleast if i had a nerve gear i would actually be social with the people in the game instead of being in my room listening to music while playing xbox not saying a thing. i want the nerve gear and i want it now!!!!
Aimyay
Kikusui10
wrote
:
They would have to make something that confuse or "transfer" your senses into the game. I dont see scientist making something like that any time soon.
They wouldn't necessarily have too. A lot of what pain is made of is psychological.
If a simulator is realistic enough to fool your subconscious into believing your avatar belongs to your body you'll automatically feel uncomfortable and in extreme situations you can feel pain as well.
Aimyay
Winterfells
wrote
:
If you get caught in your college dorm room wearing that gaming helmet...don't expect to get laid.
Why would I even need to?
I'd just play H on my NerveGear.
tehstud
When VR gaming is invented:
Pyralis1
Oculus Rift Gameplay This Week / Demo -
http://youtu.be/KBylGcvRuek
I've thought about this before and talked about it with my friend who also watched SAO. I would spend months in solitary confinement if I would be able to play a VRMMORPG. Maybe it's just because I'm a gamer and a tech fanatic and love anime, but I would get that VRMMORPG and Nerve Gear no matter what it takes, be it an online purchase or waiting in line at a store for a week to pay a bazillion dollars.
Kavalion
Yeah, I could definitely see the temptation to neglect the real world in favor of a virtual reality. Imagine living in a huge mansion with a beautiful garden and what not. That's pretty close to unachievable even with a good education and successful career. In a virtual reality, though, I suppose you'd just always hang out in a ritzy place like that. No need to upgrade the real world's crappy apartment, in that case.
Well then one thing i can say is if nerve gear got invented, would be that the streets would get empty. Even people who hates games would spend most of their day in that virtual world. End of the world as we know it?
Banned
You can just learn how to lucid dream. Lucid dreaming is infinitely superior to any virtual reality. You are basically you own god in your dreams.
I'm waiting for the Matrix. Nerve Gear is for pussies!


Yeah, that's the thing xD I would like to have it look like anime, but the thing is... Anime looks only good in 2D When it gets 3D it get's weird, unless you change up much of it, I would probably go with the more reality look-a-like :P



Blue pill or red? ;D



Well... Don't think it'd go that far, just because you have a helmet on your head xD



True that xD! I saw this on a show called "Through the wormhole" Where they had camera's over a doll's body while the subject could only see the body of the doll, the guy behind the experiment tried to scare the person, with having a knife over the doll's body and pinching it with some objects xD Very fascinating ;D Hope we get to that point some day, where we can create a virtual world, where we can connect to :D!
I think what your saying is great but in my opinion they might not even have that after we have died it is such a advanced piece of technology and the stuff where just coming out now is just a little piece of technology in to what the never gear could have been. And like transporting all your senses to a virtual reality would be the biggest issue in the matter who would want to test that it could really hurt someone if they did it wrong so it would take a long time to do all the stuff that is needed to make it and get it fully up and running with out any problem.

But on the other hand because i game i would like to see what that would be like not just using the W,A,S,D to move your guy/girl or a controller but the character moving with what u would do in real life it would really be fun